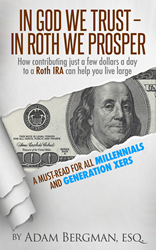 It is unfortunate that so few millennials and Generation Xers understand the power of the Roth IRA – and this book hopes to change that
New York, NY (PRWEB) June 15, 2016
In God We Trust – In Roth We Prosper. How Contributing Just a Few Dollars a Day to Roth IRA Can Help You Live Large. A Must-Read For All Millennials and Generation Xers launched a new website: http://www.rothirabook.com . The Roth IRA book website offers information on the book and the author, Adam Bergman, Esq. The book is also available on Amazon and all major book retailers.
The newly published Roth IRA book written by author Adam Bergman, Esq., an experienced tax attorney who specializes in IRAs and 401(k)s lays out the power of the Roth IRA and how starting to save early for retirement early can mean the difference between retiring with wealth and having to work you entire life. "It is unfortunate that so few millennials and Generation Xers understand the power of the Roth IRA – and this book hopes to change that." Stated Adam Bergman.
According to Mr. Bergman, saving for retirement doesn't have to be scary—and it's certainly never boring! Start building your million dollars or more, tax free. The book's aim is to showcase the power of the Roth IRA and how easy it is to start saving for retirement. The book hope to shoe young people that starting young and being consistent is the key to retirement saving. In addition, though examples and case studies, the book will show that one doesn't need to be a high earner to consider saving through a self-directed Roth IRA. Even one dollar a day will make a difference.
Adam Bergman is a partner with the IRA Financial Group, LLC, the markets leading provider of Self-Directed IRA LLC and Solo 401(k) plans. Mr. Bergman is also the President of the IRA Financial Trust Company, a self-directed IRA custodian. In addition, Mr. Bergman is a recognized expert on IRAs and 401(k) Plans and is the founder of the BergmanIRAReport.com and the Bergman401KReport.com. Mr. Bergman is the author of the book titled, " Going Solo: America's Best Kept Retirement Secret For the Self-Employed," available on Amazon, and is a frequent contributor to Forbes. Mr. Bergman has advised over 10,000 clients on the self-directed IRA LLC and Solo 401(k) Plan solutions.
Mr. Bergman has written three other books on the topic of self-directed retirement plans, including "The Checkbook IRA", "Going Solo," and Turning Retirement Funds into Start-Up Dreams.
Prior to joining the IRA Financial Group, LLC, Mr. Bergman worked as a tax and ERISA attorney at White & Case LLP, Dewey LeBoeuf LLP, and Thelen LLP, three of the most prominent corporate law firms in the world. Throughout his career, Mr. Bergman has advised thousands of clients on a wide range of tax and ERISA matters involving limited liability companies and retirement plans. Mr. Bergman received his B.A. (with distinction) from McGill University and his law degree (cum laude) from Syracuse University College of Law. Mr. Bergman also received his Masters of Taxation (LL.M.) from New York University School of Law.
IRA Financial Group is the market's leading provider of self-directed retirement plans. IRA Financial Group has helped thousands of clients take back control over their retirement funds while gaining the ability to invest in almost any type of investment, including real estate without custodian consent.
To learn more about the IRA Financial Group please visit our website at http://www.irafinancialgroup.com or call 800-472-0646.