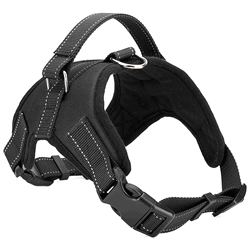 There is very little that is more rewarding than to experience the love and happiness of a trusted companion.
Chula Vista, California (PRWEB) June 21, 2016
RoughTail Pet Supplies, a provider of premium pet supplies, shows off a new high-tech walking dog harness with a few features that take the traditional dog and leash setup to a whole new level.
When it comes to walking a dog, it can be labor intensive and not a good experience for the pet owner. Dogs tend to have a mind of their own. They like to pull, tear, rip and do whatever they can to release themselves from a traditional collar and leash. Often times, the accessory used for the walk will break from the dog pulling.
The RoughTail Pet Supplies high tech dog harness provides three key improvements in design and comfort.
First, the fabric used is five times stronger than the normal canvas found in most harnesses. It resists ripping, bites, tears and other undesirable outcomes. Yet at the same time it is soft to the touch, double padded and non-irritating to the pet.
Secondly, there is over a 140-pound breaking point built into the plastic clips. Special polymers, blended with a dual locking feature, keep a dog secure within the harness. This adds to a sixty percent increase in overall strength to handle most large dogs.
Thirdly, a new design around the neck and chest, keeps a pet secure yet with the added luxury of comfort.
"Unlike most dog harness, you won't find many with the kind of strength crafted into RoughTails Pet Supplies' line of dog products. They just don't do it. We saw a need and dove in head first to fill the gap. We look at happy customers as our gauge for building a product that is second to none," said RoughTail Pet Supplies' Founder Art Saborio.
Learn more about RoughTail Pet Supplies dog harnesses on Amazon.