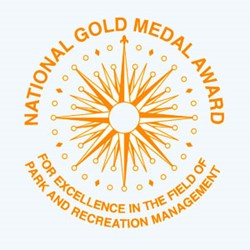 This award not only recognizes that the management of our system is the best in the nation, but it also recognizes our citizens' involvement and investment in our quality parks system.-- Mayor Alan McGraw
Round Rock, Texas (PRWEB) October 13, 2013
The American Academy for Park and Recreation Administration (AAPRA), in partnership with the National Recreation and Park Association (NRPA), is pleased to announce the Round Rock Parks and Recreation Department has been awarded the 2013 National Gold Medal Award for Excellence in Park and Recreation Management in the Class II (population 100,001 – 250,000) category. The NRPA Gold Medal Award is the highest national honor in the park and recreation industry. The award was announced Oct. 8 at the NRPA Congress and Exposition National Convention opening general session in Houston.
"We've felt for years that Round Rock's Parks and Recreation Department is one of the best in the business, and it is an important element of what makes us such a special community," Mayor Alan McGraw said. "This award not only recognizes that the management of our system is the best in the nation, but it also recognizes our citizens' involvement and investment in our quality parks system."
City Manager Steve Norwood said the award "is indicative of the excellence we strive for in Round Rock."
"I think this award is truly important for our residents, who take so much pride in Round Rock being a great place to live and raise a family," Norwood said.
A panel of five park and recreation professionals reviewed and judged all application materials. Judges were chosen for their considerable experience and knowledge in parks and recreation on both the local and national levels. For more information on the Gold Medal Awards, visit http://www.nrpa.org/awards or http://www.aapra.org.
"To be recognized as the top parks and recreation agency across the nation is a huge honor for our entire team here in Round Rock," Parks and Recreation Director Rick Atkins said. "This win reflects our commitment in providing superior customer service, innovative programming and quality parks to our Round Rock residents."
Founded in 1965, the Gold Medal Awards program honors communities in the U.S. that demonstrate excellence in parks and recreation through long-range planning, resource management, volunteerism, environmental stewardship, program development, professional development and agency recognition. Agencies were judged on their ability to address the needs of those they serve through the collective energies of citizens, staff and elected officials.
The American Academy for Park and Recreation Administration is a non-profit organization founded to advance knowledge related to the administration of recreation and parks; to encourage scholarly efforts by both practitioners and educators that would enhance the practice of park and recreation administration; to promote broader public understanding of the importance of parks and recreation to the public good; and, to conduct research, publish scholarly papers and sponsor seminars related to the advancement of park and recreation administration. For more information, visit http://www.aapra.org.
The National Recreation and Park Association is a national not-for-profit organization dedicated to advancing park, recreation and conservation efforts that enhance quality of life for all people. Through its network of 20,000 recreation and park professionals and citizens, NRPA encourages the promotion of healthy lifestyles, recreation initiatives, and conservation of natural and cultural resources. For more information, visit http://www.NRPA.org. For digital access to NRPA's flagship publication, Parks & Recreation, visit http://www.parksandrecreation.org.