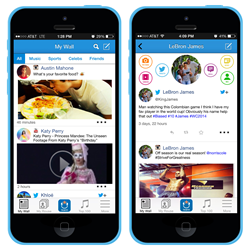 "As a big sports fan, I am excited with this new app update. I can now follow my favorite athletes and sports teams in addition to my other favorites in entertainment," says LL Cool J
NEW YORK, NY (PRWEB) August 06, 2014
Rouse Social, a mobile application that aggregates all of the social media from every artist, band and festival, today announced an updated version of the application. The improved version pulls in all of the social posts from every athlete, movie and TV personality, model, reality star and many more to give fans and and front row seat to all popular culture.
"We are very excited to add tens of thousands of celebrities to the app for fans to follow," says Daniel Smith, CEO of Rouse Social. "The public's interest and fascination with celebrity just continues to grow along with social media. By expanding our app beyond the music industry to movies, sports, reality, fashion, politics and more, the experience on Rouse Social is truly limitless. It couldn't be easier for fans to engage since we provide everything all in one place. "
Fans simply download Rouse Social from the iTunes or Google Play stores, select their favorites in music, sports and entertainment, and they immediately have one feed showing all of the social media posts from their favorites. Rouse pulls in from Instagram, Twitter, Facebook, SoundCloud, YouTube and many more social networks and content sources.
There are great benefits for the celebrities on the other end as well.
"Entertainers like myself post to different social networks for different reasons. Instagram is great for pictures and short videos. Twitter is great for a quick thought. Facebook works when I want to post a lot of text with pictures… A lot of places for fans to go, but Rouse Social brings it all into one app," says LL Cool J. "As a big sports fan, I am excited with this new app update. I can now follow my favorite athletes and sports teams in addition to my other favorites in entertainment."
Fans can now follow—or 'rouse' their favorites without the need for accounts on the various social networks their favorites are posting to. Users can also buy and listen to music, purchase concert tickets and "like" or comment directly on the social networks where each post was originated.
Rouse is currently available for iOS and Android devices.
About Rouse Social.
Rouse Social aggregates the social media accounts from tens of thousands of artists, athletes and other celebrities into one application. Users select their favorites (who they want to follow) and their Rouse wall will be filled with the posts from Twitter, Instagam, Facebook and other social networks and content sources from their favorites. Updates are real-time!