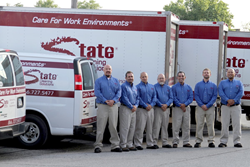 We can set up all the operating parameters we need, and there are also special fields where we can record our techs' skill sets and special abilities.
(PRWEB) March 19, 2014
By introducing the TruckStops routing and scheduling optimization solution from MapMechanics, State Cleaning Solutions says it has been able to adopt a holistic approach to managing its team of field technicians – not only reducing the mileage traveled, saving cost and enhancing efficiency, but also ensuring that the most appropriate available tech is dispatched to each job.
State Cleaning Solutions, a division of Ohio-based State Industrial Products, provides a range of cleaning, maintenance, and sanitization solutions to various industry sectors including schools, hospitals, hotels, and restaurants, using its own extensive range of chemical products.
Its programs are supported by a team of field technicians, who cover 22 states with a fleet of Ford Econoline and Transit vans, serving thousands of customers. The techs visit customers for various reasons – to perform preventive maintenance, ensure the customer is experiencing superior results, to deliver product, and to respond to emergencies.
Their visits may be planned weekly, monthly, bi-monthly or at other intervals, or arranged on an ad hoc basis when an unscheduled service call is received. "Despite this complexity, in the past we adopted a very 'vanilla' approach to scheduling," says division controller Fred Weimer. "We aimed to minimize the mileage traveled, but we didn't optimize the routes in other ways. For instance, we didn't set up the system we were using before to take account of the wage rates we were paying to drivers or the fuel consumption of our various vehicle types."
He was convinced that the company could make savings by streamlining the techs' activities, but wanted to find a system that would take account of operational factors as well as journey efficiency.
"Some techs are good at identifying additional chemical solutions to existing customers," he explains. "We wanted to allocate them to visits where that ability was most likely to pay off in terms of increased orders and customer satisfaction. Some are good at installing and at training new customers. Some have special skill sets appropriate to particular kinds of machinery – for instance, laundry equipment."
The company also needed to be able to schedule journeys that started and ended near the technicians' homes, but not necessarily at exactly the same location every day. It has an agreement in place with its techs that they will travel up to 20 minutes on their own time before starting and after finishing their scheduled journeys – the equivalent of commuting for office workers – and needed to reflect this in the route plans.
After evaluating four potential routing and scheduling optimization systems, the company opted for MapMechanics' TruckStops. "We can set up all the operating parameters we need, and there are also special fields where we can record our techs' skill sets and special abilities."
TruckStops also has the ability to schedule different start and finish points for each journey, adding flexibility to the use of home-based technicians.
"In fact TruckStops has all the capabilities we need, even taking account of our special requirements," Fred Weimer says. "It's also a very user-friendly product. We were able to get it working with minimal training."
He says that TruckStops offered good value for money. "We looked at more expensive products, but they had bells and whistles that we didn't need, and would still have had to pay for. The return on investment with TruckStops was much higher."
While little support from MapMechanics was needed, Fred Weimer says the company was unusually helpful when help was required. "We found their team very friendly and customer-focused. Dealing with them was a very pleasant experience, which we really enjoyed."
Standing back from the project, Fred Weimer advises: "If you want true optimization, you need to take a holistic approach. Take a deep look into your business, and use systems that take account of the nuances of your resources, work force and skill set."
Mary Short, founder and director of MapMechanics, comments: "State Industrial's application of TruckStops illustrates its ability to reflect users' specific operating circumstances, and to take account of resource issues that might extend well beyond the normal factors associated with vehicles and drivers."