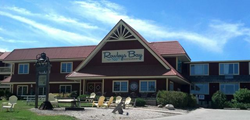 Ellison Bay, WI (PRWEB) March 08, 2016
Online auctioneer Micoley.com recently announced the upcoming auction of Lot 101479, or the Rowleys Bay Resort in Ellison Bay, Wisconsin. The resort is found at 1041 County Hwy ZZ and overlooks Lake Michigan.
Property features include 700 feet of Lake Michigan shoreline, as well as a 65,000 square-foot main lodge. The lodge includes many rooms and suites, with some featuring two or three bedrooms and full kitchens. Lakeside and non-lakeside accommodations are available, and all rooms are smoke free.
Additional lodge features include the Rowleys Bay Restaurant, Grandma's Swedish Bakery, Rowleys Pub, a library stocked with books and magazines, fitness room, game room, indoor pool, whirlpool, and more. The property also features five cottages with the area providing much in regards to water sports and related activities. Other recreational options in the area include hiking and cross-country ski trails, a playground, zipline, basketball and volleyball courts, and a marina and launch.
Nearby activity options include segway tours through Seaquist Segway, paddleboarding and kayaking through DC Adventure Center, charter fishing through Reel Addiction, and more. The surrounding area offers plenty to do as well, as Door County is renowned for its nature reserves, beaches, camping options, cherry trees, boating and fishing, and arts and culture. The area features numerous performing arts venues, art galleries, arts and crafts classes, and more, as residents are all about "culture in the country."
List price for Lot 101479 is $3,750,000 with an opening bid of $2,850,000. The auction is scheduled for April 27, 2016. Micoley.com founder & CEO, Wade T. Micoley considers the resort to be one of the most exciting properties in the entire auction; "This resort is something out of the movies, with jaw-dropping views every day of the year. The beauty of Lake Michigan really has to be seen to be believed!"
About Micoley.com:
Micoley.com was created to "transform the real estate industry," and functions in conjunction with W.M. Enterprises, Inc. President and CEO, Wade T. Micoley has served as a real estate industry leader for more than 30 years, and continues to provide marketing solutions to his wide range of clients.
"Today we serve the real estate community in both the banking and private sectors with customized, accelerated marketing programs," says W. Micoley. "Programs can be tailored for financial institutions, commercial and corporate clients as well as the individual property owner to help face our current and unpredictable economic environment. As a result of our aggressive marketing plan, Micoley has successfully assisted many clients across the United States."