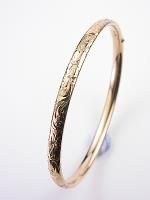 The nice thing about this vintage bracelet is that a child doesn't need royal blood to own it.
Atlanta, GA (PRWEB) September 11, 2013
As the future King of Britain, Prince William and Kate's recently born baby, George Alexander Louis, will likely be the recipient of some pretty spectacular gifts. Topazery, however, doesn't believe that amazing presents should be limited to just babies possessing a royal lineage. In celebration of the royal baby's birth, the antique jewelry boutique has just added a vintage child's bracelet to its inventory that is befitting the newborn pride and joy of royalty and common folk alike.
If tradition holds true, the newly minted Prince George, third in line to the British throne, can expect a long line of expensive gifts showing up at his royal crib. Case in point Jewelry News Network's recent rundown of Royal Gifts for Royal Babies Past. Therein, Britain's foremost authority on antique jewelry explained that "a small string of pearls for a girl and cufflinks for a boy" have been typical gifts in the past, but historical shows of congratulation have ranged from Austrian-made silver gilt service to a Victorian silver gilt cup and cover.
Topazery's new vintage child's bracelet contains all the glamour deserving of a future king or queen in something more practical that will actually get used. Made of 14k yellow gold, the bracelet is carved with a floral and feather motif. It dates back to the 1930s, when the royal baby's great-grandmother, Queen Elizabeth, was just a child. Therefore, it is a piece of jewelry she herself might have worn as a child.
That possibility seems all the more likely when one considers the British coronation Crown Jewels and the Queen's Jewels for Her Majesty's private use. The former includes gold bracelets called armills that are believed to symbolize sincerity and wisdom. When Queen Elizabeth II was crowned, a new set of these bracelets were presented to her. A bangle bracelet is also part of the queen's Gloucester Jewels collection.
"Whenever Queen Elizabeth is photographed in public, she's almost always wearing a full ensemble of jewelry," explains Topazery's spokesperson. "Even when she leaves her crown at home, she's usually sporting necklace, earrings and one or more bracelets. Given her predilection for fine jewels, it's not out of the question that she might buy her new great-grandson a bracelet like the vintage child's one Topazery is now carrying. The nice thing about a bracelet like this, though, is that a kid doesn't have to have royal blood running through him or her to own one."
For more information on how to select a gift for a newborn that's befitting royalty, contact Jan Walden at (678) 528-8901. To browse Topazery Jewelry's full selection of royal-worthy vintage, antique and antique style jewelry pieces, visit the company online at http://www.topazery.com/.