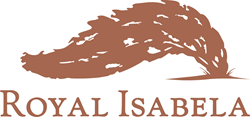 "Nature is our best architect," says Stanley Pasarell.
Isabela, Puerto Rico (PRWEB) October 29, 2013
Royal Isabela—the world-class golf and private membership club on the cliffs of northwest Puerto Rico—was recently named the "best resort in Puerto Rico" by Islands magazine. A few weeks ago, it won the World Travel Award as "Puerto Rico's Leading Golf Resort" and was nominated as the island's "leading boutique hotel." And it has received numerous accolades for its mesmerizing golf course that plays on top of cliffs 300 feet above the Atlantic Ocean.
This recognition has made the staff very proud, yet humbled. Trying to live up to the praise, here are 10 ways Royal Isabela strives to remain a perfect 10.
10. A "Royal" Welcome
The walkway to Royal Isabela's welcome area in La Casa serves as a taste of the resort's careful design scheme, which adheres to the natural elements and island history. The stone tower is a reflection of old Puerto Rico and is by far the most visible structure on the otherwise humble grounds.
9. Restoring Life on the Cliffs
Royal Isabela's property has one of the most beautiful overlooks on Puerto Rico's northwest coast. But it wasn't always that way, and the first priority of the resort's owners—brothers Charles and Stanley Pasarell—was to restore the landscape and natural habitat and create the El Pastillo Conservation Trust to help assure that all will remain pristine for generations to come.
8. The Casitas: Ultimate Accommodations
By limiting accommodations to just 20 "Casitas" (1,500-square-foot guest homes), Royal Isabela is committed to maintaining a quiet, peaceful environment. A special interior feature of each Casita is the wall between the living area and the bedroom: The entire wall slides away like a huge pocket door, so guests can wake up to first morning light coming up over the ocean.
7. Private Dip To Start The Day
Each Casita has a plunge pool that offers another amazing way to "wake up" in the morning, as well as cool off in the afternoon. Tropical trees and shrubs are strategically sited to create a private tunnel view out to the Atlantic—and eliminate any peripheral views of neighboring guests.
6. "Royal Garden" Spices Up Dinner
Want to know where tonight's dinner is coming from? Just a little ways down the main driveway is the club's own fruit and vegetable garden. "The key to great food is not ingredients," says resort Chef Jose Carles. "It's fresh ingredients." Chef Jose picks his own cherry tomatoes, watermelon, and basil, then infuses them and other local produce into every meal.
5. Quietest Pool On Earth
Golf etiquette seems to follow the paths from The Links At Royal Isabela to the resort's saltwater pool. Or, maybe it's the soothing waters that induce the hushed tones of a foursome on the putting green. Whatever the cause, the absence of typically noisy poolside distractions is a welcome attraction.
4. So Much Room … In The Bathroom
Each Casita at Royal Isabela has an absolutely enormous bathroom. How big is it? Spacious enough that Mom can take a bath, daughter can enjoy a shower, while Dad "reads the paper," each in their own private, sectioned-off areas. And the three showerheads (one built into the ceiling) turn hair washing into an unusually entertaining recreation.
3. Puerto Rico's Best Beaches
Down the cliffs from Royal Isabela are the best beaches on the northwest coast of Puerto Rico (and arguably the best on the entire island). As the main attraction of the popular beach town of Isabela, this section of the Atlantic surf break is world-class. So is the soft sand, which massages your feet as you walk along a shoreline that is as secluded and "private" as a public beach can be.
2. Mother Nature's Golf Course
Charlie and Stanley Pasarell, brothers whose shared vision compelled them to create The Links At Royal Isabela, were reluctant to change the landscape. So they didn't, using the remains of a sugar-cane mill at the back of one hole, and an almond tree blown over by a hurricane 20 years ago across another fairway. Workers collect grass seeds from the course and plant them on the resort's sod farm so they can constantly replenish The Links with is own indigenous grasses. "Nature is our best architect," says Stanley Pasarell.
1. Caring Makes A Difference
The professionals at Royal Isabela oversee a special golf program for local boys and girls (children of casita guests can participate upon request). Workers from a local homeless men's program tend the organic garden and get a chance to earn paychecks. Employees are always adopting stray dogs and cats. "How could we be here and not help the community around us?" asks Stanley Pasarell.
That's only 10 ways Royal Isabela aims for perfection every day. Come visit and we're sure you'll find dozens more. (And when you do, be sure to tell us.)
For more information, contact Royal Isabela at 787/609-5888 or toll free 855/609-5888. Or visit the web site at http://www.royalisabela.com.
About Royal Isabela
The Golf Links at Royal Isabela is the centerpiece of a private gated community and golf club with 20 casitas, stretching along 426 dramatic, oceanfront acres. The course's back nine plays along cliffs that soar in elevation from 150 to 350 feet above sea level and will create an intimate setting for the custom homes and villas that are planned for this small piece of island paradise. Located at the northwest edge of Puerto Rico, the property is 90 minutes from San Juan International Airport and only 20 minutes from Aguadilla International Airport. Membership to the golf community is by invitation only, but based on availability, others may book the luxury Casitas. While on property, guests have access to the golf course and clubhouse, the signature restaurant, and other amenities. Additional information about Royal Isabela is available at http://www.royalisabela.com and by calling (787) 609-5888. Royal Isabela, 396 Noel Estrada Ave., Isabela, PR 00662