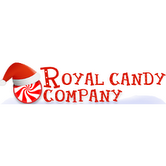 To help offset some of the costs and make the season a little brighter, we will be offering deals throughout the season so be sure to check out our holiday deal page often
Mount Laurel, NJ (PRWEB) November 27, 2013
Are visions of sugar plums and other candies dancing in your head? Well, Royal Candy Company might be able to make your sweet dreams come true. Royal Candy, a leader in online candy sales located in Mount Laurel, NJ is excited to offer a huge selection of your favorite Christmas candies at low bulk prices. To sweeten the deal, it's offering various discounts and free shipping offers throughout the holiday season.
On Black Friday, the official kick off of the Christmas shopping season, Royal is offering free shipping on all orders over $49.99, plus an additional 10% off orders of $75 or more.
It is obvious that candy is a big part of Christmas celebrations, huge and small. According to a recent survey, 89 percent of adults said candy plays a role in their winter holiday celebrations. This statistic is borne out by the fact that there were over 1.8 billion candy canes and more than 150 million chocolate Santas made for Christmas last year according to the National Confectioners Association.
"Whether it is for gift giving, stocking stuffing, or decorating your Christmas tree, you are likely to see and enjoy candy during the Christmas holiday celebration," said Mike Dougherty, Sales Manager for Royal Candy Company. "With the average family projected to spend over $800 this year on Christmas, celebrating is expensive. To help offset some of the costs and make the season a little brighter, we will be offering deals throughout the season, so be sure to check out our holiday deal page often."
Royal's extensive holiday selection includes Spangler candy canes, Albert's chocolate Advent calendars, Jelly Belly reindeer corn, Fort Knox colored chocolate coins, Just Born snowman peeps, Merckens chocolate melts, and much more.
About Royal Candy Company
Royal Candy Company of Mount Laurel, NJ has been delighting customers since 1990 with its stellar customer service and by selling only the highest quality candy at the lowest prices. Offering a wide selection of bulk candy, chocolates, wrapped and unwrapped candy, novelty candy, candies by the color, sugar free candy and more, ensures Royal can satisfy almost any sweet tooth throughout the continental US and Canada.
To learn more visit Royal Candy Company's website.