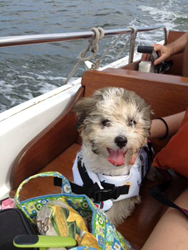 Most airlines will allow dogs under twenty pounds to travel in the cabin with passengers– a perfect opportunity for Havanese to get in on the family travels!
Charlestown, RI (PRWEB) May 12, 2015
Traveling with a canine companion on airline flights is becoming more commonplace. Most airlines will allow dogs under twenty pounds to travel in the cabin with passengers– a perfect opportunity for Havanese to get in on the family travels! Royal Flush Havanese shares information on the logistics and benefits of traveling with a canine.
Preparing for Travel:
Although there is an extra fee to bring a canine along on a flight, many owners see it as less expensive as well as less stressful for the dog than leaving him/her at a boarding kennel. However, if a canine is registered as an emotional support dog, there is no extra fee. Emotional support dogs can help owners to relax if they are fearful flyers or have other disabilities or medical conditions. More information on registering a pet as an emotional support dog can be found here. Before flying, all dogs must be carried through the airport in a FAA approved dog carrier that meets the requirements of the airline, which usually stipulates a carrier cannot exceed 17" x 12.5" x 8". Look for a carrier that is ventilated on both ends, leak-proof, made with durable materials, and has a separate compartment for storing a leash and doggy bags. It can also be useful to have a carrier with a telescopic handle that is on wheels, making it easy to move throughout the airport. When purchasing a ticket, it is best to call the airline directly to ensure they are aware a dog will be flying in the cabin, as sometimes seating is strategically arranged in case other passengers have allergies.
At the Airport:
Upon arrival, travelers with pets are typically asked to go to the ticket counter to pay the dog's fee, as well as to show a health certificate from a veterinarian and up-to-date vaccination information. Make sure the canine has ample time to use the bathroom outside the airport before entering. Going through security is perhaps the most difficult part of canine air travel. Owners will be asked to carry their dog through the metal detectors while the carrier goes through the X-ray machine. The dog will have his/her own boarding pass that must be shown to a TSA agent. The canine will return to the carrier immediately after– it can be helpful to carry a treat to entice a dog to return to his/her carrier. After exiting security, all animals will have to remain in their carriers until leaving the terminal. The only exception is if the dog is in a pre-determined "pet relief" area, that all U.S. airports are now required to have. To speed up this process, training a dog to use a pee pad is often useful.
In-Flight:
Once in the air, it is time to relax and enjoy! However, to make the journey less stressful for a canine, choose a seat away from any infants or direct sunlight. Nervous dogs can be calmed through use of Dog Appeasing Pheromones. These come in sprays or wipes, and release the same smell produced by nursing dogs.
Royal Flush Havanese shares these tips with the hope that all Havanese owners can enjoy the experience of canine air travel with their dogs. Royal Flush Havanese is a BBB accredited business specializing in breeding and raising Havanese puppies born and raised in Rhode Island and Florida. Royal Flush Havanese has been awarded a Certificate of No Complaints from the BBB and a company rating of A+ for outstanding dedication to honesty in the business place, customer satisfaction, and for ethical policies and procedures. Please join us in our quest to teach others about the loyal, gentle and lovable Havanese breed.