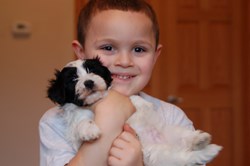 Putting in the money and time to properly care for one's Havanese when he is young will ensure better health in the future.
Charlestown, Rhode Island (PRWEB) October 15, 2013
Shopping for a Havanese puppy for one's household can be a very exciting and overwhelming process. Oftentimes, pet owners will rush into purchasing a puppy without stopping to consider the full disbursement of owning a pet, and how even small expenses can add up over time. Royal Flush Havanese helps explain the first year expenses associated with the ownership of a Havanese puppy.
After the purchase price, the largest expense of owning a Havanese puppy is the cost of the veterinarian visits. Havanese puppies need to be taken in for a primary checkup, and brought into the vet for three of the four rounds of shots. The first vaccination occurs at the age of 7 weeks while still with the breeder, the second at 10 weeks, the third at 13 weeks and the fourth at 16 weeks. These include the DHLPPC shot (distemper, hepatitis, Leptospirosis, Parvovirus, Parainfluenza, and Corona), Bordetella, Rabies, and may include Lyme. Each vaccination visit can cost up to $100. Additionally, all Havanese puppies should be spayed/neutered, which will cost an additional several hundred dollars. Lastly, all Havenese dogs should take heartworm and flea and tick medicine monthly, which is about $150 per year.
High-quality food is also very important for a young Havanese's health. Royal Flush Havanese suggests using Royal Canin Small Breed MINI Puppy Dry Food ($40.00 for a 13 pound bag) along with supplemental NuVet vitamins ($56.00 for a 90 wafer container). Any additional supplements to the diet of a young Havanese will cost additional money, making the total for food per year about $650.
Other miscellaneous items include toys, a crate, a bed, and grooming tools. Together, these items should all cost about $200. This cost will increase quickly depending upon personal preference.
Lastly, smaller expenditures are necessary as part of pet ownership. Cost of grooming salons, dog walkers, kennels, and training can add hundreds of dollars more. Training classes for a Havanese will likely cost about $110, according to the ASPCA. Grooming salons usually charge about $35 a visit, with a trim needed every 2 months beginning about 4 months after the Havanese puppies have received all their shots. Even without use of dog walkers and kennel visits, these costs for a Havanese puppy should total about $230.
The first-year expenses of owning a Havanese puppy discussed in this article total $1,700. Although this number may be a bit of a shock, the costs do not all come at once, and putting in the money and time to properly care for one's Havanese when he/she is young will ensure better health in the future and a stronger relationship between owner and pet.
Royal Flush Havanese is a BBB accredited business specializing in breeding and raising Havanese puppies born and raised in Rhode Island. Royal Flush Havanese has been awarded a Certificate of No Complaints from the BBB and a company rating of A+ for outstanding dedication of honesty in the business place, customer satisfaction, and for ethical policies and procedures. Please join us in our quest to teach others about the loyal, gentle and lovable Havanese breed. Like us on Facebook and check out our Havanese Puppy Care Page where you can find even more helpful articles and informative tips for dog-enthusiasts and breeders alike.