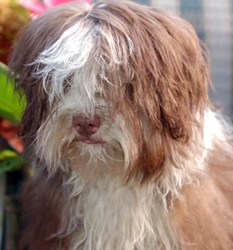 Havanese are generally wonderful travelers by plane. A few simple steps can make travel with your pet effortless.
Charlestown, Rhode Island (PRWEB) July 17, 2013
Air travel is a far more arduous process for canines than humans .Royal Flush Havanese gives the full lowdown on how to make what can be a frustratingly complicated endeavor as streamlined, hassle-free, and easy as possible for both dog and doglover alike.
Depending on the size of the dog, there are two ways to take a canine aboard an airplane. If he-or-she is a small breed dog like the Havanese taking the dog as a carry-on is the preferred option. The dog can be easily stowed in his-or-her crate beneath the passenger seat. This is the most attractive option because the dog is with his-or-her human, which greatly reduces any anxiety the dog may experience from the flying experience. Also, the dog can be easily checked on and reassured that everything is okay.
But for bigger breeds this just isn't an option. In these cases the dog must be stowed as cargo. This is also the case if the canine's human is not traveling with the dog.
Shipping a dog as cargo means the canine will be stowed along with all the plane's other luggage, usually (but not always) in a separate compartment than the suitcases and bags. The dog will be placed in that separate area with whatever other pets are on board as well. However, often times the dog will be the only pet on the flight so isolation must be added to the list of upsetting factors the canine will endure. Dogs often become extremely agitated in the cargo hold. It is often a terrifying experience for them. Royal Flush Havanese reminds you that dogs are creatures that strictly live in the present moment. Because of this they have no idea any experience they are going through will ever end. They cannot conceive of it. When faced with an awful, strange, and new experience, they panic and can go into an anxiety-ridden frenzy. Take action and reduce the chances of this happening with a few practical precautions.
Unlike the atmosphere in the cabin, the atmosphere in the cargo part of a plane is not always strictly controlled. This includes the temperature. There have been cases of dogs dying from overheating and hypothermia, not to mention sheer exhaustion. To their credit, airlines have changed their rules to greatly reduce the chances of these things happening. They will now only transport pets during those times of the year wherein the temperature is not too extreme and falls within safety guidelines. If it doesn't, the transport will be put off until it does. Also, please be advised that just as luggage can get lost in flight and end up at a different destination than intended, so can dogs! If this happens tracking down where the dog has gone can be a very difficult job.
As in all aspects of our lives, there are some bureaucratic details involved with dogs and air travel as well. It is mandatory that a USDA approved travel carrier for dogs (also referred to as an "airline crate") is used. Some airlines provide these for free, but more often many don't. These USDA standard crates are made of high density, rugged, and durable plastic and have generous ventilation holes. A "Live Animal" sticker usually comes with them and must be affixed to the outside of the carrier. Being certain that the crate is marked with such a sticker is of prime importance because without such a decal the airplane staff may not realize the crate contains a living, breathing animal. The airline will usually provide a "Live Animal" sticker also. Be sure the crate is big enough to allow the dog ample space. The dog should be able to stand up without hitting his head and turn around freely. Dog carriers like these can be purchased at any well stocked pet supply store. Be certain that the one purchased is a USDA approved one. Don't be afraid to ask.
The best advise that Royal Flush Havanese can offer you regarding actually purchasing a flight ticket for a dog is this. It is best to purchase the ticket for a dog by phone and not online. In this way live airline personnel can answer your questions directly and to your satisfaction as well as inform you of all applicable requirements and regulations. Also, if at all possible (and Royal Flush Havanese cannot emphasize this enough) book a direct flight to the dog's destination. This will greatly lessen the chances of the canine becoming lost in transit. Each time a dog has to transfer to a different flight is another chance of the canine missing his-or-her next connection. Any number of factors can cause a dog in a carrier case to miss a flight including the most obvious, of course, the weather. Missing a flight may cause the unfortunate canine to sit on the tarmac for hours terrified by the roaring sounds of nearby jet engines. A direct flight for a dog may be more expensive, but for the sake of the dog's comfort and safety (and the owner's peace of mind) it is greatly preferred.
All airlines require a dog to have a current health certificate. A dog should be taken to his-or-her vet to receive one no later than ten days before departure. The vet must give the dog the "the all clear" as regards the canine's over all health and vaccination history and updates. Before the dog is transported the health certificate must be attached to the outside of the dog's carrier case. Clear packaging tape is preferred to do this because it is waterproof. A Ziplock bag works well too and should also contain some of the dog's food. Please make sure any handwriting is legible and in permanent, waterproof ink.
Here is a quick run down of other air travel tips for canines and their humans.
1. Don't feed your adult dog for twelve hours before the flight, but do give them water. This will reduce the chances of the canine getting sick on the flight. Puppies need food before and during their flight so they don't get hypoglycemic, but you can almost always expect that they will not keep it all down.
2. Provide water for your canine's flight. To do this securely attach a water bottle to the carrier. Another way to insure a dog has a ready water supply during transit (and one that unlike a water bottle cannot be knocked off by accident) is to freeze water in the snap-on cup or bowl that comes with each carrier case. Then, attach this to the inside of the crate just before the flight.
3. Line the bottom of the crate with shredded newspaper to soak up any in-flight accidents. Do not use housebreaking pads in the crate. They attract a dog to relieve himself and the plastic can be torn and ingested.
4. Be sure that a clearly visible and decipherable ID tag is on the dog's collar. On this should be the dog's home address, telephone number in case the canine gets lost in transit. It is a good idea to attach a second ID with the name, phone number, and address of the person who is picking the dog up as well. Also, call that person right after the dog has departed to let him-or-her know when the flight can be expected to arrive. This is will minimize and delay any separation anxiety the dog will experience.
Royal Flush Havanese encourages people to do all they can to reduce the stress of air travel for dogs and all their pets. They do not ship puppies but encourage puppy owners who have traveled to pick up their pup to bring him home as carry on so new owners and puppies are not separated and have a happy flight. Bring wee wee pads so you can lay them down in the airport or at your feet in the plane for your pup to do his business.
Go to the Royal Flush Havanese website and read more useful tips for the health and well being of dogs. Awarded a Certificate of No Complaints and rated A+ for their outstanding dedication to honesty in the business place, customer satisfaction, and ethical policies and procedures by the Better Business Bureau, Royal Flush Havanese is dedicated to producing the finest Havanese puppies for sale and providing outstanding service in their care. The only dog-breeder in the Ocean State to be accredited by the BBB, Royal Flush Havanese has also received sterling reviews from their many delighted clients, Royal Flush Havanese is proud of their much appreciated commitment to excellence and has thousands of admiring fans and followers on Facebook. "Like" the Royal Flush Havanese Facebook page today to show your support.