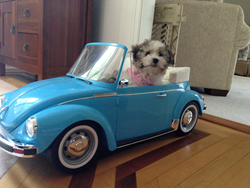 Any free-moving dog has the ability to limit a driver's vision, or worse, get in the way of steering or under the brake pedal.
Charlestown, RI (PRWEB) September 30, 2014
Dogs are social animals, and love to go everywhere with their owner. Oftentimes, this involves spending time in the car travelling from place to place. Many dog owners choose to let their canines have free run of the vehicle; however, this is not only unsafe for the dog, but unsafe for the owner as well. Royal Flush Havanese shares with readers why keeping a dog restrained in a vehicle should always be routine practice.
There are many ways a dog can become injured by riding freely in a moving vehicle. Many different forms of car restraints are available to canine owners, ranging from seatbelts to crates. No matter the type, all restraints limit a dog's ability to move around the car, keeping the canine from distracting the driver. Any free-moving dog has the ability to limit a driver's vision, or worse, get in the way of steering or under the brake pedal. Additionally, restrained dogs cannot be thrown during a collision. This not only helps prevent the dog from getting hurt, but also any other people in the car. Any loose animals involved in an accident can become afraid and/or aggressive, and quickly become a serious obstruction to first responders at the scene of the accident. All restraints keep dogs from attempting to jump out the window of the car, which can be dangerous for both the dog and any other drivers on the road.
With so many car-restraint options available, how should an owner choose which is right for their dog? The two most common methods of restraint are crates, and harnesses that attach to seatbelts. Owners must consider their dog's temperament and training in order to pick an appropriate restraint. For example, if a dog prefers to move around and to not be tied up, a crate would be the more viable option. However, if a dog enjoys being able to feel the wind while sitting in the backseat, a harness may be the better fit. Always check crates and harnesses to make sure they are the correct size for the canine. Most harnesses are categorized by weight, while any crate should be large enough for a dog to lie down, turn around, and stand up in comfortably.
Many states (and countries!) are beginning to pass laws about properly restraining pets while driving. In Rhode Island, new legislation was introduced in 2013 making driving with a pet on one's lap a distracted driving violation. Some states are even stricter– in New Jersey, any car can be pulled over if they are believed to be transporting a pet in an unsafe manner, with fines ranging up to $1,000 and animal cruelty charges. In a 2010 survey conducted by AAA, 20% of participants claimed to allow their canine sit on their lap while driving, while 31% said their dog distracts them while they drive.
Royal Flush Havanese urges all dog-owners to be proactive when it comes to the safety of their dog. All responsible owners should properly restrain their canines not only for the safety of the dog, but for the safety of the humans around as well. Royal Flush Havanese is a BBB accredited business specializing in breeding and raising Havanese puppies born and raised in house in both Rhode Island and Florida. Royal Flush Havanese has been awarded a Certificate of No Complaints from the BBB and a rating of A+ for outstanding dedication to honesty in the business place, customer satisfaction, and for ethical policies and procedures. Please join us in our quest to teach others about the loyal, gentle and lovable Havanese breed. Like us on Facebook and check out our website where you can find even more helpful articles and informative tips for dog-enthusiasts and breeders alike.