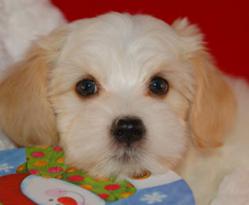 "... There's nothing more panic-inducing and frightening to dogs than fireworks."
Charlestown, Rhode Island (PRWEB) July 03, 2013
Royal Flush Havanese has some great tips for keeping dogs safe during this year's 4th of July celebrations. Most dog lovers are familiar with this scenario, a loud and frightening noise sends the dog into a panic. It's instinctual and so universal with canines. And, no doubt, in the wild this knee-jerk reaction helped to keep today's domestic dogs' wolf-like ancestors safe for the most part. Out in the primordial jungle, or the prairie, or the forest, loud noises almost always meant danger. Most often the source of that clamorous danger was Man, intruding, foraging humanity.
Skip a few thousand years of domestication later and canine and human are living together quite happily in a mutually rewarding situation. But human beings, if anything, are more noisy than ever (cars backfiring, loud recorded music, TVs blaring), and dogs are still just as skittish of loud noises. With the approach of the 4th of July a day away this is definitely more of a problem than usual. Except for the crack of thunder (or the noise of a battlefield) there's nothing more panic-inducing and frightening to dogs than fireworks.
Royal Flush Havanese encourages doglovers to take all necessary steps to keep dogs safe and calm during this year's 4th of July celebrations and some foresight and planning is the best way to make that happen. Of course, the best bet for keeping a dog safe during the 4th of July is keeping the canine indoors and away from all the 4th of July thunderous action. If this is not an option then keeping the dog on a secure leash or safely fenced in or crated is the next best option. And be aware that when the loud explosions begin, unless the dog is trained and desensitized to such things, the canine will likley be in a greatly agitated state, even at times a panic. The dog in all likelihood will try to make a run for it.
Be sure the dog is wearing a collar and tags with all information clearly visible on it. This is always a good idea, but on the 4th of July it is imperative and the first and most necessary precaution to take if the dog does somehow get loose. When dogs hear loud, scary noises the ancient instincts immediately kick in and the dog's first reaction will be to run as fast and faraway from the source of that frightening noise as possible.
Before the holiday comes it might be a good idea to brush up on the dog's training. Also, if the dog is going to be around large groups of people such as at a parade and around loud noises (always a bad combo) it might be worth muzzling the dog. In such a situation with such stressful conditions imposed on a canine, it is possible that even the sweetest dog may become so distressed and panicked as to unwittingly bite someone close at hand.
Of course, the best bet is to keep a dog away from loud noises before they happen, such as boisterous parades and especially fireworks.
Royal Flush Havanese encourages patriotic doglovers across our great land to celebrate our Nation's independence this year with pride, joy, and patriotism. And for your dog, add to this joyful list, safety.
Happy 4th of July!
Discover useful dog-care tips and advice at the Royal Flush Havanese website today. Awarded a Certificate of No Complaints and rated A+ for their outstanding dedication to honesty in the business place, customer satisfaction and ethical policies and procedures by the Better Business Bureau, Royal Flush Havanese is dedicated to producing the finest Havanese puppies for sale and providing outstanding service in canine-care. Royal Flush Havanese is the only dog breeder in the Ocean State to be accredited by the BBB and has also received great reviews from their many happy clients. Royal Flush Havanese boasts thousands of admiring fans and followers on Facbook too. Their commitment, passion, and love for the Havanese breed is clearly applauded by fellow Havanese lovers all over Rhode Island and across the land.