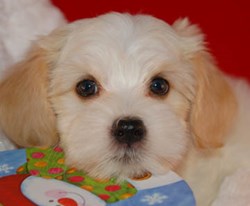 "Royal Flush Havanese encourages all contestants to dig deep and get creative."
(PRWEB) August 20, 2013
In dual celebration of two of Royal Flush Havanese's favorite things, summer and Havanese dogs, Royal Flush Havanese announces a fun-filled, Facebook photo contest. Post a picture of a Havanese enjoying all that summer has to offer and enter to win a shot at a $100.00 gift pack tailor made to delight any Havanese and his-or-her human.
Royal Flush Havanese encourages all contestants to dig deep and get creative. The photographic possibilities are endless. Anything representative of summer, fun, and all things Havanese are welcome. Beach pictures, camping photos, and picnic photographs are just three of the possibilities. Royal Flush Havanese encourages people to think outside of the box, get imaginative and keep an eye out for unique photographic opportunities with the Havanese dogs in their lives.
As all Havanese lovers know from joyful experience, these are one of the most photogenic canine breeds on the planet. In fact, Royal Flush Havanese cannot think of a better canine muse. Possessing an innate playfulness, natural good looks, and winning personalities, all Havanese are walking photo opportunities waiting to happen. Every one of these personality-rich, fun-loving, affectionate dogs has a calendar's worth of photos in them! Be the one to unleash them.
Havanese lovers who want to participate are encouraged to start posting their photos now. Royal Flush Havanese will re-post them and let the Havanese-loving public be the collective judge. The photo that gets the most "likes" on Facebook by the end of the day, August 31, wins and the Havanese-loving photographer who posted it gets to pamper his-or-her Havanese with all the goodies in the $100.00 gift pack.
Cute Havanese photographs to share, the opportunity to express what each photographer loves about his-or-her dog, and a chance to win a $100.00 gift package will make everyone who participates in this contest a winner. Royal Flush Havanese encourages its FB followers to get started and enter today.
The Royal Flush Havanese website is the source for great tips relating to the care, well-being, and true appreciation of the Havanese breed. Royal Flush Havanese is BBB accredited with an A+ rating for excellence. Every puppy buyer becomes an extension of the family and Holly Mastroianni, owner of Royal Flush Havanese, is available for lifetime support 365 days a year, standing by each and every puppy placed. Royal Flush Havanese has also received sterling reviews from their many delighted clients, Royal Flush Havanese is proud of their much appreciated commitment to excellence and has thousands of admiring fans and followers on Facebook. "Like" the Royal Flush Havanese Facebook page and join their ranks today. Help spread appreciation for this unique, family-friendly, fun-loving dog.