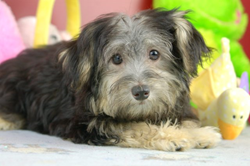 The desirable characteristics supposedly achieved from crossbreeding can vary from personality to size to coat to conformation.
Charlestown, RI (PRWEB) July 29, 2014
In recent years, the fad of owning designer dog breeds– otherwise known as crossbreed mutts– has become increasingly popular. The Havanese itself has been crossbred with other breeds, producing dogs such as the Hacachon, the Havashire, and the Havanese Shih Tzu.
The primary reason designer dogs have become popular is due to the myth that by crossbreeding two breeds, all positive characteristics of each breed will appear in the offspring. This leads buyers to believe that they are getting the 'perfect' dog. The desirable characteristics supposedly achieved from crossbreeding can vary from personality to size to coat to conformation. Purebred dogs have had hundreds of years of careful breeding so that only those with the best temperament and breed standard have offspring. When purchasing a purebred pup from a reputable breeder, such as Royal Flush Havanese, the buyer knows exactly what the temperament of the dog will be, along with his/her physical characteristics and potential health problems. On the other hand, when purchasing a crossbred dog, buyers have no idea which qualities of the parents have been transferred to the offspring, and how that will impact the puppy. Relatively little information is available on these designer breeds, and health issues are commonly reported in these crossbreeds.
With over 400 recognized breeds of dogs, there is assuredly one out there that satisfies whatever qualities potential buyers are seeking. Many crossbreed breeders have an agenda behind their marketing techniques. Official-looking papers and registered names are often given to mixed breed dogs in an effort to make them seem like purebreds. In order to truly be considered a purebred, the breed must be registered with either ther American Kennel Club, the United Kennel Club, the Canadian Kennel Club, or the American Rare Breed Association.
Additionally, even if breeders successfully breed puppies with positive traits from both parents, there are bound to be some negative impacts as well. Reputable breeders know that it is important to know everything about the dog being bred, and that is why so many only specialize in one breed. Combining two breeds, even by a knowledgeable breeder, can have unforeseen side effects and complications that although not deadly, can severely impact a dog's quality of life.
Royal Flush Havanese urges readers to always purchase dogs from a reputable breeder. Crossbreeds are not purebred dogs, and do not compare to the hundreds of years of breeding a purebred possesses. Families set on getting a mixed-breed dog should visit an animal shelter, not a breeder. Visit the Royal Flush Havanese website and read more useful tips for the health and well being of your dog. Awarded a Certificate of No Complaints and rated A+ for their outstanding dedication to honesty in the business place, customer satisfaction, and ethical policies and procedures by the Better Business Bureau, Royal Flush Havanese is dedicated to producing the finest Havanese puppies and providing outstanding service in their care. The only dog-breeder in Rhode Island to be accredited by the BBB, Royal Flush Havanese has also received outstanding reviews from their many delighted clients, Royal Flush Havanese is proud of their much appreciated commitment to excellence and has thousands of admiring fans and followers on Facebook.