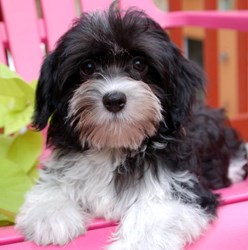 Royal Flush Havanese wants Havanese owners to be aware that feeding your Havanese (or any dog) the right diet for optimal health need not be confusing at all.
Charlestown, Rhode Island (PRWEB) September 10, 2013
Royal Flush Havanese knows how important what a dog eats is to his-or-her health and general well being. The Havanese breed is no exception to this rule, of course. No dog is.
Considering what kind of speculation, rumor, inaccuracies, distortions, and downright falsehoods there are out there in the ever expanding media, it's become harder than ever to sift through all those opinions and find the scientific facts. Because make no mistake, nutrition, whether it's for a dog or a human, is a science.
In recent years there has been a lot of talk, debate, and speculation regarding what to feed dogs for optimal health. Terms like "holistic diet" or "organic" are everywhere and depending on what source is read can seem to mean different things. In fact, often the use of these terms seems so all encompassing on one hand or vague on the other as to be rendered essentially meaningless. Or at the very least confusing. Often times it seems one source contradicts the very "facts" the other has just laid out.
For the well intended doglover who wants the very best for his-or-her dog trying to make head or tails of the issue can seem frustratingly overwhelming. There are two common misconceptions that should be dispelled first. And here they are.
Some have advocated a raw food diet for dogs and on the surface this seems to make sense. Certainly a dog's distant wild forebear and current cousin, the wolf, eats his food raw. But dogs, despite their close genetic relation to wolves, aren't wolves. And raw food for the domestic dog can cause all kinds of risky digestive problems. Some others advocate that people make their own dog food from scratch. This would be a great idea if all doglovers had the time and expertise to do so. But very few do. And even if they have the time, unless the doglover is a dog nutritionist too, even the most lovingly prepared home made dog food won't have the nutritional value of premium store bought dog food. And that is the key here. The dog food brand must be premium and with a sterling record for ingredient integrity. So many brands of dog food are recalled because they're simply not. A little research will help doglovers discern which brands are to be trusted and which are not.
Royal Flush Havanese wants Havanese owners to be aware that feeding your Havanese (or any dog) the right diet for optimal health need not be confusing at all. All that's required is that a few simple rules are followed. Thankfully, they're all pretty straight forward.
The first rule is go to a reliable source for canine dietary information. As truly well meaning as many people are, or even as self-educated on the subject, the people to ask about a dog's nutritional needs are breeders and vets. Not neighbors, friends, or even other dog owners.
When it comes to the Havanese breed, Royal Flush Havanese knows that breeders like themselves that specialize in one breed they are absolutely passionate about must as a matter of their passion and dedication to that breed feed their dogs the very best diet available. It really is essential for healthy, happy, and well adjusted pups. It's just as important as proper exercise, shelter, and affection.
It's also very important to keep a dog's diet consistent. Doglovers should seek to have their dogs stay faithful to a specific brand. Don't worry overly much about monotony. Humans get bored of the same food every day. Dogs don't, though a little variety is fine, even desirable. The brand's beef recipe one night, chicken the next, say. But, if at all possible stay with the same trusted brand. Dog food companies spend millions of dollars on research to formulate food with just the right amount of proteins, carbs, fats, and vitamins and minerals to keep dogs of different sizes and ages healthy. The food they formulate is based on hard science and therefore is to be trusted. Royal Flush Havanese knows that good nutrition is one of the keys to a Havanese's happiness. And what Havanese lover doesn't want to keep his-or-her canine family member to be happy?
Royal Flush Havanese strongly, even urgently, recommends that you follow a reputable breeder's advice and instructions regarding diet and all aspects of canine care. Before purchasing any puppies from a breeder consider that breeder's commitment to the dog after the purchase is done. Reputable breeders will be there afterwards for support, advice, and other resources for the lifetime of the dog. A reputable breeder will maintain their interest in the dog's well being for the entirety of the dog's life. Besides being the right thing to do, it's also good business policy. After all, there are no shortcuts to a good, respected, and trustworthy reputation. Royal Flush Havanese knows that exceptional service, true passion, and commitment are the only way get a great reputation.
Visit the Royal Flush Havanese website today. Read more useful tips for the health and well being of dogs including diet. Awarded a Certificate of No Complaints and rated A+ for their outstanding dedication to honesty in the business place, customer satisfaction, and ethical policies and procedures by the Better Business Bureau, Royal Flush Havanese is dedicated to producing the finest Havanese puppies for sale and providing outstanding service in their care. The only dog-breeder in the Ocean State to be accredited by the BBB, Royal Flush Havanese has also received sterling reviews from their many delighted clients, Royal Flush Havanese is proud of their much appreciated commitment to excellence and has thousands of admiring fans and followers on Facbook. "Like" the Royal Flush Havanese facebook page today to show your support.