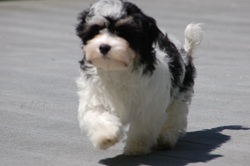 Donate, participate, and educate in order to make the most of May.
Charlestown, RI (PRWEB) May 08, 2014
The month of May brings with it a plethora of dog-related holidays. Join Royal Flush Havanese in celebrating our favorite four-legged friends by learning more about these celebratory days!
National Pet Week
The first week in May is known as National Pet Week, running this year from May 4-10. This time is dedicated to celebrating the joys of canine ownership (and all our other pets, too). The holiday first began in 1981, created by the American Veterinary Medical Association. Many local businesses schedule events around this time, and owners typically make an increased effort to spend time with their canines. Check local newspapers for events such as dog park cleanups and educational workshops. Visit the American Veterinary Medical Association's website for more information.
National Service Dog Month
First established in the year 2009, May is now known as National Service Dog Month*. This time is meant to help educate the public about the great services these dogs provide for humans, and also to celebrate the incredible accomplishments these canines have already achieved. Most people are familiar with the term guide dog– a canine that has been trained to help their vision-impaired owners navigate streets and sidewalks. However, service dogs are typically trained specifically with their future owner in mind, and can complete many precise tasks most people are not aware of. These can include retrieval of items, alerting their owner to noise, recognizing the symptoms of a medical emergency, helping relieve anxiety and/or depression, and even helping people with autism by providing reassurance in over–stimulating environments. Training of a service dog can take up to two years, and exceed costs of $40,000. The largest accredited service dog charity is the Petco Foundation, a nonprofit that supports other not-for-profit groups helping to fund the training and care of service dogs.
*The official National Service Dog Month was changed to September in the year 2010.
Pet Cancer Awareness Month
May is also known as Pet Cancer Awareness Month. In 2011, the Journal of Veterinary Internal Medicine stated that a shocking 30% of older dogs die as a result of cancer. Both mixed-breed and purebred dogs are susceptible to the disease, the most common types being Hemangiosarcoma, Lymphoma, Melanoma, Mammary Cancer, Prostate Cancer, and Malignant Histiocytosis. This month-long celebration helps to increase public awareness of the different types of cancer, and the warning signs that a canine may have contracted the disease. Many organizations accept donations throughout the year, some helping to perform research on different types of cancer, and some helping to defray costs for families with a sick canine facing expensive treatment options. Blue Buffalo and Petco have joined forces and created their Pet Cancer Awareness website, where viewers can learn more about pet cancer and also donate to accredited organizations.
National Dog Bite Prevention Week
This year, May 29-25th marks National Dog Bite Prevention Week, also started by the American Veterinary Medical Association. The focus of the week is to educate dog owners and the general public on how to prevent dog bites from happening. According to the AVMA, about 4.5 million people are bitten by dogs in the United States per year, and 1 out of every 5 of those bites require medical attention. Children are much more susceptible to dog bites than adults, and are also much more susceptible to being seriously injured. Second to children, senior citizens are also the most prevalent victims. The AVMA promotes proper dog training and socialization as well as proper education on how to approach dogs and read their body language.
Royal Flush Havanese encourages readers to celebrate the canines in their lives throughout the entire month. Donate, participate, and educate in order to make the most of May! Royal Flush Havanese is a BBB accredited business specializing in breeding and raising Havanese puppies born and raised in Rhode Island and Florida. Royal Flush Havanese has been awarded a Certificate of No Complaints from the BBB and a company rating of A+ for outstanding dedication to honesty in the business place, customer satisfaction, and for ethical policies and procedures. Please join us in our quest to teach others about the loyal, gentle and lovable Havanese breed. Like us on Facebook and check out our website and YouTube where you can find even more helpful articles and informative tips for dog-enthusiasts and breeders alike.