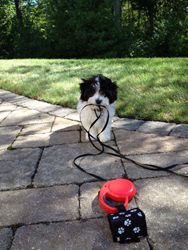 Pavement that is too hot can be painful for dogs to walk on, and cause blisters on the pads of their paws.
Charlestown, Rhode Island (PRWEB) May 05, 2015
Spring weather is perfect for allowing dogs to lounge outside and enjoy the warmer temperatures. However, there can be many lurking hazards for canines. Royal Flush Havanese shares tips on how to keep dogs away from such threats.
1. Pavement Perils
During the winter, many harsh chemical compounds can be dropped on the roads in an effort to relieve icy conditions. Although the temperatures are now warmer, many of these chemicals can still be found on pavement. Any dog walking on such a surface can pick up the chemicals on the pads of their paws. When dogs clean themselves, then run the risk of ingesting the chemicals. Avoid this by cleaning the pads of a dog's paws with a wet cloth every time they have been walked. Additionally, as it continues to warm up, be cautious of the temperature of asphalt dogs are asked to walk on. Because it is dark in color, it heats up much faster than the air. Pavement that is too hot can be painful for dogs to walk on, and cause blisters on the pads of their paws.
2. Garden Gambles
Many common indoor and outdoor plants can be toxic to pets. Springtime is planting season, and many families spend time landscaping, gardening, or setting up their compost. All owners should be conscious of what plants are accessible to pets, even if they are not toxic. Common plants that are in fact toxic to dogs include green parts of potatoes, daffodils, oak buds and acorns, azaleas, carnations, holly, honeysuckle, tomato plants (excluding ripe fruit), wisteria, and onions. In addition, compost bins can brew several different types of mold that can be poisonous to animals. Similarly, several types of mulch can also be poisonous, and smaller landscaping stones are easy for dogs to choke on. Keep pets out of and away from all gardens and compost areas.
3. Weedkiller Worries
Springtime is the ideal time of year for application of weedkillers, pesticides, insecticides, and fungicides to lawns. All of these compounds can be harmful– if not life threatening– to canines, even in small doses. In particular, the scent of rat poison can be attractive to dogs. If ingested, this can quickly prove fatal. Pet owners should avoid spraying any chemicals on their lawn, as pets can ingest them either directly, through their skin, or by licking their paws. Chemicals can even be collected and then ingested through water runoff that has collected in puddles within the yard. All pet owners should also be vigilant when walking their pets, taking care to avoid walking on any grass that has been sprayed with pesticides of any kind. Other items that should be avoided and kept away from animals include paint, auto supplies, and gasoline or oil.
Royal Flush Havanese encourages readers to research common canine hazards, and to be proactive in securing proper canine health. Royal Flush Havanese is a BBB accredited business specializing in breeding and raising Havanese puppies born and raised in Rhode Island and Florida. Royal Flush Havanese has been awarded a Certificate of No Complaints from the BBB and a company rating of A+ for outstanding dedication to honesty in the business place, customer satisfaction, and for ethical policies and procedures. Please join us in our quest to teach others about the loyal, gentle and lovable Havanese breed. Like us on Facebook and check out our Puppy Care Page where you can find even more helpful articles and informative tips for dog-enthusiasts and breeders alike.