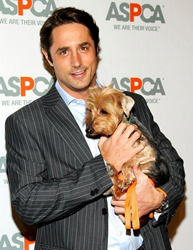 True Dose products are made using the same high standards and commitment to natural ingredients as Royal Pet Club products.
New York, New York (PRWEB) September 28, 2013
The Royal Pet Club has announced the launch of True Dose™ natural liquid supplements to its line of all natural Royal Treatment pet products. The addition of True Dose supplements is a natural step for Royal Pet Club founder Prince Lorenzo Borghese, whose passion for animals reflects in his line of pH balanced pet grooming products, custom blended using 100 percent organic ingredients that pamper and soothe their delicate skin.
Borghese's decision to add the liquid supplements to his Royal Treatment line came in July 2013, when he discovered ENB Science, LLC, the manufacturer of True Dose products also founded by animal lovers who are passionate about improving the quality of ingredients and accuracy of dosing within the vitamin, supplement, and nutrient category for pets.
The founders of True-Dose have extensive experience in both human pharmaceuticals and pet health. The goal of providing human quality pharmaceutical grade products to pets is in keeping with Borghese's standard of excellence in his Royal Pet Club product ingredients.
Clinical studies by Animal Research and Development School of Veterinary Sciences at Oklahoma State University show that liquid supplements are absorbed almost four times faster than traditional tablets.
True Dose liquid supplements:
1. Are proven to work within 30 minutes
2. Are manufactured in a fully accredited and FDA-audited human pharmaceutical facility
3. Come in a natural flavor that both dogs and cats love
4. Are bottled with a pre-measured pump for accurate dosages every time
True Dose was also voted 2012 Best New Product by CDMA members.
"True Dose products are made using the same high standards and commitment to natural ingredients as all of our Royal Pet Club products," Borghese says. "We are proud to add them to our line of superior pet products that our four legged friends deserve."
The 12 True Dose products available for dogs and cats through the Royal Pet Club include:

True Dose Agility for Dogs
True Dose Calming for Dogs and Cats
True Dose Joint Care for Cats
True Dose Joint Care for Dogs 50 lbs. and over
True Dose Joint Care for Dogs up to 50 lbs.
True Dose Sin and Coat for Cats
True Dose Skin and Coat for Dogs
True Dose Wellness for Dogs
True-Dose Dental Fresh Kit For Dogs & Cats
True-Dose Gel Fresh For Dogs & Cats
True-Dose Sea Fresh For Dogs & Cats
True-Dose Spray Fresh For Dogs & Cats
To learn more about purchasing True Dose products Royal Pet Club visit the Royal Pet Club website.
About Prince Lorenzo Borghese and Royal Pet Club:
Prince Lorenzo Borghese, founder and president of Royal Pet Club and Royal Treatment Italian Pet Spa, is passionate about the well being of animals everywhere. His line of pet-friendly organic products were originally created for his beloved Black Lab, Belle. For nine consecutive years, Royal Treatment has been the most successful pet line on the HSN shopping channel. A vocal advocate of spaying and neutering programs, Borghese donates five percent of Royal Pet Club profits plus $2 for every new customer to Animal Aid to support spay and neuter programs across the U.S. Through this program, families unable to afford the cost of having their dog spayed or neutered will be able to have the procedure done for free by a top veterinarian in their community.
Borghese's line of Royal Treatment products were developed to support pet wellness with premium, natural dog shampoos, conditioners, and other organic pet grooming supplies.
Borghese's Royal Pet Club is the online destination for the Royal Treatment line's natural pet spa and wellness products. Made from the finest organic ingredients and fragrance oils, Royal Pet Club's pet grooming products have been developed with the help of leading cosmetics manufacturers, world-renowned veterinarians, and other pet experts from around the world. Formulated in a cosmetics laboratory on the outskirts of Tuscany, Italy, all Royal Treatment grooming products are pH balanced for pet's sensitive skin.
Borghese has worked with numerous animal welfare organizations including North Shore Animal League, the ASPCA and Animal Care and Control of NYC. He is co-founder of Animal Aid USA, a group of volunteers who pull dogs in jeopardy of being euthanized and find them homes. Each month Animal Aid USA and M.O.M.S (founded by Karen Talbot) find homes for over 100 dogs. Borghese is also an ambassador to the American Humane Association.
For more information, visit the Royal Pet Club website, or Email John(at)RoyalPetClub(dot)com.