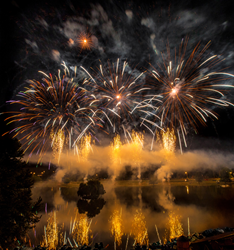 "This will be our first appearance in Montreal with our current generation of family leadership and we are eager to show the industry how we are evolving with a fresh and youthful eye on our artistic fireworks productions."
Loveland, Ohio (PRWEB) March 30, 2015
Rozzi's Famous Fireworks announced that they have been selected to be the United States representative at the 31st edition of L'International des Feux Loto-Québec fireworks competition taking place in Montreal, Canada, from July 1st to August 1st, 2015. This will be Rozzi's sixth appearance at the competition, where they previously won two Jupiter awards.
"We are excited and honored to be selected to compete in Montreal again this year," said Nancy Rozzi, President. "This will be our first appearance in Montreal with our current generation of family leadership and we are eager to show the industry how we are evolving with a fresh and youthful eye on our artistic fireworks productions."
On July 25, 2015, Rozzi's Famous Fireworks will present "The Seasons of Life", a compelling pyro musical journey through Antonio Vivaldi's Four Seasons set against the emotional story of life. The soundtrack mixes Vivaldi's music with songs of Johnny Cash, David Guetta and others that also explore the theme of life's seasons. From hopeful beginnings to the acceptance of one's mortality, the journey of life is a universal story, with one's personalities being defined by the peaks and valleys experienced through the passage of time. The thirty-minute display takes viewers on a journey along a path illuminated by a million stars.
L'International des Feux Loto-Québec, originally known as Concours international d'art pyrotechnique de Montréal (Montreal International Fireworks Competition), was launched in 1985 and is one of the most prestigious fireworks events in the world. Close to three million people attend the fireworks competition held at the La Ronde Six Flags property every year, making it one of Québec's most attended events. For more information on the show visit http://www.laronde.com
Rozzi's Famous Fireworks is a 5th generation, family owned pyrotechnic company located in Loveland, Ohio. Rozzi specializes in producing one of a kind, first class entertainment in the sky. Founded in 1895, Rozzi is one of America's oldest fireworks families and is one of the few companies remaining in the United States that still manufactures their own line of products. Rozzi is best known for their partnership with the Cincinnati Reds, their pyrotechnic contribution to the WEBN Riverfest festival and as hosts of the Fire Up The Night International Fireworks Competition held at Coney Island. Their Class C, consumer fireworks stores are located in Loveland, Ohio, and in Newport, Kentucky. For more information visit http://www.rozzifireworks.com.