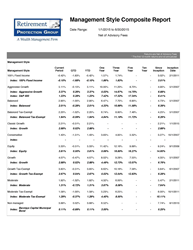 (PRWEB) August 03, 2015
RPG employs a proprietary money management system called TAAP, or Tactical Asset Allocation Program. Their system has the flexibility to move some or all stock and equity positions to cash in declining markets.
This approach may reduce volatility and potential losses.
RPG's TAAP Program's Three Step Investment Process:
1) Invest in favorable market conditions: The TAAP Program employs a wide variety of proprietary tools to help identify the best times to be invested in the stock market.
2) Invest in leading growth companies: The TAAP Program utilizes sophisticated screening processes that filter stocks for those companies that are dominant in their industries and are accelerating in price.
3) Sell if necessary and move to cash in market corrections: The TAAP Program is designed to sell stock positions and move to cash if price indicators show that markets are rapidly declining!
Contact RPG to see if their exclusive T AAP Program is right for your portfolio.
Investors must have a minimum of $150,000 of liquid investable money to qualify for the TAAP Program. Since no single investment program is suitable for all types of investors, this information is provided for informational purposes only. You should review your investment objectives, risk tolerance, and liquidity needs before investing in the TAAP Program. There are no commissions charged on stock or bond trades with the account. This is a fee based account.
For more information:
Contact: Thomas A. Gray, MBA or Christina Jesperson, MA: 310-375-1300 http://www.retirementpro.com
About Retirement Protection Group:
Retirement Protection Group (RPG) is a wealth management firm located in the beautiful Hollywood Riviera section of Redondo Beach, CA. For over 20 years, they have worked one-on-one with affluent individuals, families and businesses to help them achieve their financial goals.
Their main objective is to make a positive difference in their client's lives by providing ethical financial planning and wealth management services. Securities offered through Triad Advisors, Inc. Member: FINRA & SIPC.