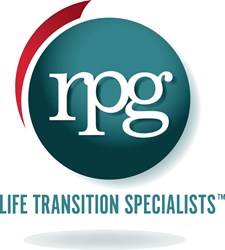 The one-size-fits-all approach to finances that the media and financial television programming touts doesn't serve the best interests of our clients. In fact, it's quite misleading.
Chicago, IL (PRWEB) September 17, 2013
What is your definition of a successful life, and how much money do you need to support it? Those are essential questions that RPG partners Josh Kadish and Nicole Mayer ask new clients to help them assess and plan their financial future. Questions like these, Kadish and Mayer say, create an individual, holistic approach to wealth management, and help clients more clearly align their wealth to their personal happiness and reason for living.
RPG-Life Transition Specialists, a Chicago-based firm, provides a variety of financial services based on an innovative educational approach to wealth management and financial life mapping that bridges the gap between education and planning.
"The financial services business model is broken," Kadish said, adding that, "The one-size-fits-all approach to finances that the media and financial television programming touts doesn't serve the best interests of our clients. In fact, it's quite misleading."
So far, RPG's unique approach and insights have been limited to the 850 clients served by their suburban Chicago office, but soon, Kadish and Mayer will be sharing their insights on financial management with a broader audience through their upcoming book on strategic life and wealth planning. Not yet titled, the book will help readers assess their true life and career goals and uncover ways to develop financial plans that genuinely support those ambitions as a path to happiness.
"We want to make what we've discovered accessible," said Mayer, "because it's the real key to wealthy individuals living a balanced and joyous life."
To create a book that would do just that, Kadish and Mayer teamed with Round Table Companies (RTC), a Chicago-based book publishing and storytelling company that works exclusively with authors who are dedicated to changing the world, explained Corey Michael Blake, RTC President.
"It was a natural alignment," Mayer said.
In August, Kadish and Mayer attended an annual author retreat sponsored by Round Table Companies, meeting with other RTC authors to hone the message of their books and share in the journey of being A+ players dedicated to worthwhile conversations and human connection. Although RTC authors have very different backgrounds, they all use their experiences and life stories to impact others through vulnerability and real-talk, Blake said.
The RPG book, scheduled for publication in the summer of 2014, will give readers an intimate view of typical client situations and the special process RPG uses to guide clients to achieve their goals. In addition, the book will provide meaningful tips on what readers should consider when managing their own life transition.
For more information on how RPG-Life Transition Specialists does financial planning and wealth management differently, please contact Josh Kadish at josh(at)rpgplan(dot)com or Nicole Mayer at nicolem(at)rpgplan(dot)com.
About RPG-Life Transition Specialists
RPG-Life Transition Specialists is a privately owned, independent, comprehensive planning firm specializing in Wealth Management, Retirement Planning, Tax Planning, Estate Planning, and Insurance. For more information, please visit http://www.rpgplan.com.
About Round Table Companies
Round Table Companies is a diverse creative intellectual property development and storytelling company. For more information please visit http://www.roundtablecompanies.com.
The opinions expressed are for general information only.
Securities and advisory services offered through National Planning Corporation (NPC), Member FINRA/SIPC, a Registered Investment Adviser. RPG, Inc, Round Table Companies and NPC are separate and unrelated companies.