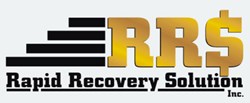 Bohemia, NY (PRWEB) December 16, 2013
Rapid Recovery Solution, Inc. warns about conspicuous telemarketing posing as commercial debt collection agencies.
A December 12 article from ABC News titled "ABC News Fixer: Getting Debt Collector Call? Beware This Faker," outlines a new scam that could target any American with a telephone. A mock company that calls itself Affirmative Litigation Group is calling unsuspecting households and asking to settle outstanding debts.
Joshua Herman of South Carolina, one such victim highlighted by ABC News, describes his experience with a fake collector from Affirmative. The representative, referred to as Eric, harassed Herman for $539.95 in supposed unpaid debt and demanded $276 as a settlement. Herman was immediately skeptical and demanded documentation from the collector. Eric could not produce proof of the debt, nor could he provide basic information about his firm, claiming their website was under repair. In the end, an investigation from ABC News put an end to the abuse for Herman.
John Monderine, CEO of Rapid Recovery Solution, voices his discontent. "Scams like this are all too frequent and have the potentially affect commercial debt collection agencies all over. At Rapid, we've worked too hard to cultivate an honorable reputation among companies and debtors to have the industry threatened by lowly con artists." Monderine continues. "Joshua Herman did the right thing by demanding documentation from the onset. An authentic collection agency will provide a validation notice to debtors, itemizing the details of the collection. These scams are seeking quick cash and personal information, so both should be withheld until trust is established."
Founded in 2006, Rapid Recovery Solution, Inc. is headquartered at the highest point of beautiful Long Island. Rapid Recovery Collection Agency is committed to recovering your funds. We believe that every debtor has the ability to pay if motivated correctly. We DO NOT alienate the debtors; we attempt to align with them and offer a number of ways to resolve not only your debt but also all their debts.