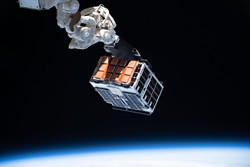 SPAICE will monitor satellite performance and predict equipment failures by using real-time satellite telemetry data and anomaly messages.
ALBUQUERQUE, N.M. (PRWEB) October 19, 2021
RS21, an Inc. 500 data science company developing artificial intelligence (AI) and machine learning technologies for the space sector, has been awarded a Direct to Phase II Small Business Innovation Research (SBIR) contract from AFRL to expand its AI-powered satellite monitoring system. The $750,000 funding will be allocated to developing SPAICE, or the Space Prognostic AI Custodian Ecosystem, an autonomous solution for fault detection and prediction that will help prevent costly and disruptive failures in satellites.
The SBIR program is highly competitive and encourages small businesses to engage in federal research and development with the potential for commercialization.
"We are incredibly proud to work with the U.S. Air Force and support critical missions through our continued development of data-driven solutions for satellite health monitoring," said Charles Rath, President and CEO of RS21. "Through this partnership, we are confident we can help fill a gap in the satellite industry with AI-enabled predictive maintenance."
Satellites contribute to important services—like national security applications, weather forecasting, navigation, space science, environmental monitoring, and communications. Satellite operation and maintenance, however, remains challenging with only 40% of satellites remaining operational and the other 60% becoming defunct or "space junk". There is a need for AI-based monitoring systems, like SPAICE, that predict a lead time before satellites fail and a full attribution system that pinpoints the system and subsystem components so preventive actions can be taken to keep satellites operational.
"SPAICE will monitor satellite performance and predict equipment failures by using real-time satellite telemetry data and anomaly messages," explained Trisha Miller, Director of Research and Development at RS21. "In addition to developing a fully deployable SPAICE product, we will also look for opportunities to commercialize the offering for other customers who manage satellite fleets or ground equipment and want to minimize operating and maintenance costs and maximize uptime."
RS21 is an industry leader in developing interactive, big data analytics and visualization products. The company was named the winner of the 2020 AFRL Hyperspace Challenge, a business accelerator run by the Air Force Research Laboratory and CNM Ingenuity for the U.S. Space Force.
The rapidly growing data science company uses artificial intelligence, design, and modern software development methods to empower organizations to make data-driven decisions. RS21 partners with the federal government, Fortune 100 companies, and top research institutions to navigate complex data issues in the fields of healthcare, population health, infrastructure resilience, disaster preparedness, supply chain management, community safety, and security and cybersecurity. With offices in Albuquerque, NM and Washington, DC, RS21 is a 2020 Inc. 500 fastest-growing company and a Fast Company Best Workplace for Innovators.
For more information, visit http://www.rs21.io.