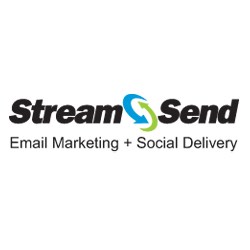 New York, NY (PRWEB) December 17, 2013
StreamSend, a leading email marketing service provider and creator of the enhanced social marketing tool StreamSend Share 2.0, is helping retailers combine the simplicity of RSS with the power of email and the reach of social.
RSS-driven automation allows retailers to send daily / weekly emails with fresh holiday offers, automatically. With, simple drag and drop functionality, StreamSend's RSS widget offers a five-step configuration process that can be completed in just minutes: drag the widget into desired email template, paste the RSS URL, enter the number of posts preferred in email to display, define when and how often the email to go out, and select the list it will go to. Once configured, the email will go out with fresh content on a regular schedule, automatically.
RSS-driven automation is a powerful tool that helps save time and money, build brand awareness, strengthen trust with customers, generate leads, and ultimately grow the business. "As companies spend a higher percentage of their marketing dollars creating new content, it's essential that marketers adapt and implement scalable strategies for content distribution. RSS-driven automation helps businesses streamline their content distribution by posting it to email, social media and the web, automatically," explained Dan Forootan, President of StreamSend.
Smart RSS allows users to place offers, YouTube videos, tweets, blog posts, and other content into emails and vertical social share boards - automatically. This can be done during content creation or normal sharing, and as new content is added, emails and social share boards are automatically updated. The goal of Smart RSS is to put content to work automatically, effectively track and leverage the information collected, and ultimately increase sales and ROI.
Below are a few benefits to RSS-driven automation:

Simplicity: Create content once and automatically distribute it through multiple channels – eNewsletters, social pages, micro-sites and more.
Efficiency: By using RSS to streamline and automate content distribution, fewer resources are required, saving time and money and increasing ROI.
Scalability: RSS Syndication is a true one-size-fits-all model. Once the RSS-driven strategy in place, it will scale to meet increased readership and the growth of the list.
Brand Awareness: By delivering fresh content on an ongoing basis, a brand will build trust and loyalty, convert audiences into brand advocates and keep companies (and its capabilities) top-of-mind.
Intelligence: By monitoring the content of readers click on, a user can understand their interests and leverage that information for future marketing.
Targeting: RSS allows content to be tagged in existing CMS, then easily segmented and distributed according to channel, topic and audience. This allows a user to deliver tailored content.
Revenue: A growing audience presents the opportunity to offer targeted advertising, allowing for a user to monetize existing channels without a significant increase in resources. While this may not be appropriate for all, for some companies such as publishers, it can introduce a new revenue stream.
StreamSend offers hundreds of professionally designed email, social and mobile templates with simple drag and drop functionality and can easily update templates with new images, videos, RSS feeds and surveys. Its smart message delivery system streamlines the marketing process by providing users with the ability to create a campaign once and deliver it to email, social and the web with the click of a button.
Find out how StreamSend's powerful, yet affordable, feature set can help increase sales this holiday season. http://www.streamsend.com/HolidayEmailCampaigns
For a free guide to learn how an RSS-driven automation strategy can help maximize content reach and grow a brand or business, go to: http://www.streamsend.com/AutoPub.
About StreamSend:
Established in 1998, StreamSend is a leader in Email Marketing and Social Delivery. It offers easy-to-use, affordable and reliable services designed to help businesses reach marketing goals. StreamSend offers a number of industry-leading standard pricing plans, private-label and affiliate programs and hands-on personal client service.
Related News:
StreamSend: Email Marketing Still Outperforms During Critical Holiday Season