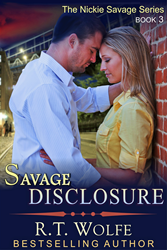 ...every child deserves a childhood.
Shrewsbury, Pennsylvania (PRWEB) December 01, 2015
ePublishing Works! announces SAVAGE DISCLOSURE by R.T. Wolfe, available in paperback (978-1-61417-799-9, 264 pages, $14.99 USD) and eBook format (978-1-61417-798-2, $4.99 USD).
GENRE:
Romantic Suspense
THE STORY:
Detective Nickie Savage is on the heels of a domestic child trafficking ring—the same one responsible for her own childhood abduction.
When the ringleaders repeatedly slip her grip, Nickie suspects there's a mole funneling information to an outside source and calls upon her new husband, Duncan Reed, to find the leak.
But Nickie needs more than Duncan's photographic memory and computer hacking skills to get back on track. She must make peace with the ghosts of the children she left behind.
Read an excerpt from the book by clicking here.
FROM R.T. WOLFE:
"I received an email from an early reader of this series in which she wrote, 'This story inspired me to let go of the guilt I carried about my childhood abuse.' Wow, that's what it's all about...it's why I wrote this book.
Inspiration for this story comes from Child Rescue, a wonderful organization that works to give exploited children a childhood by funding rescue missions, aftercare programs, and prevention campaigns. You can visit them at http://www.helprescueachild.org."
MEET R.T. WOLFE:
It's not uncommon to find dark chocolate squares in R.T.'s candy dish, her Golden Retriever at her feet and a few caterpillars spinning their cocoons in the terrariums on her counters at her home near Normal, Illinois. You can contact R.T. through her website: http://www.rtwolfe.com.
Discover and Purchase this and other titles from R.T. WOLFE by clicking here.
SAVAGE DISCLOSURE is available through online retailers, booksellers, subscription services and public libraries everywhere. Wholesale buyers may purchase through Ingram or Baker & Taylor with full return privileges.
ABOUT EPUBLISHING WORKS:
ePublishing Works! is a next generation digital print, audio and ebook publisher for career-minded authors who want to focus on their passion: writing great stories. From digital file preparation, cover design, sales copy, promotion and distribution, to royalty payment, ePublishing Works takes care of business while authors enjoy the freedom to write. For more information and submission guidelines visit us at http://www.epublishingworks.com or click here to request information.