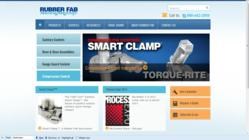 Sparta, New Jersey (PRWEB) August 24, 2013
Rubber Fab, a leading national supplier of sanitary products for the food and beverage industry, is scheduled to participate in the annual Food Industry Suppliers Association (FISA) conference from September 14-17, 2013. The 2013 conference will be held at the Savannah Harbor Golf Resort & Spa, an American Automobile Association (AAA) 4-diamond resort, offering world class amenities. The FISA conference is the premier networking and educational event for sanitary equipment distributors and manufacturers,
A Rubber Fab senior executive enthusiastically expounds, "It is time again for FISA's 2013 annual conference in beautiful and historic Savannah, Georgia, and we're really looking forward to it. The conference is titled 'Lead for Results' and will focus on leadership, events the industry is facing and building profitability. It'll also bring along excellent benefits of networking."
Conference participation provides registrants with an opportunity for face-to-face interaction with the management of distribution and manufacturing firms that service high-purity industries. Seminar highlights include "The Business of You!" with Steve McClatchy, "Creating a Killer Sales Team" with Dr. Joe Ellers, "FSMA Update" with Allen Sayler, "Lead Your Team" with Steve McClatchy and "Triple Your Profit" with Dr. Al Bates. Organizers also schedule a variety of other events sure to pique interest.
Rubber Fab is a regular participant in industry conferences. The company's knowledgeable employees enjoy developing relationships and sharing their expertise. The aforementioned senior executive comments, "Attending the conference helps in developing new relationships with the distributors and manufacturers and strengthening the existing ones. We do believe that conferences and trade shows are much more than handshakes and business cards, and look ahead to these events each and every year."
Rubber Fab is a leading producer of gaskets, hoses and many more sanitary products. The company offers value added services such as 360° radial crimping, coding, documentation, labeling, packaging, product services, shipping, testing and technical services. For more information on this reputable rubber gasket manufacturer, click here.
About the Company
Rubber Fab is renowned for the quality of their hose fittings, rubber gaskets and specialty seals. Industrial affiliations of the company include the International Society for Pharmaceutical Engineering (ISPE), the American Society of Mechanical Engineers Bio Processing Equipment (ASME BPE), 3-A Sanitary Standards, Inc. (3A), FISA, the International Association of Food Industry Suppliers (IAFIS) and the National Association for Hose and Accessories Distribution (NAHAD). Rubber Fab regularly participates in trade shows. For more information on sanitary stainless fittings, use this link For more information on stainless steel adapters, view this page. Procurers can request a quote online or by phone at 866-442-2959.
Contact Information
Rubber Fab
26 Brookfield Drive
Sparta, NJ 07871
Phone: (973) 579-2959
Toll Free: (866) 442-2959
Fax: (973) 579-7275
Website: http://www.rubberfab.com/