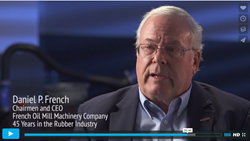 We have customers in the synthetic rubber business in 25 countries…We get to see different cultures and different ways of doing things.
Piqua, Ohio (PRWEB) September 14, 2016
The knowledge gained through decades spent in a rewarding career is even more valuable when it's shared by industry legends like Daniel P. French, R.J. Del Vecchio, John Long and others.
That was the inspiration behind the collaborative video titled "Rubber and Elastomers: Insights from Industry Legends" sponsored by Rubber World Magazine, Rubber Division, ACS; Dow Corning; LORD Corporation; Hallstar; and R.D. Abbott Company.
A series of one-on-one interviews were conducted with top elastomer professionals, some with over 45 years of industry experience, to discuss their career highlights, lessons learned, advantages to working in the industry, and where they see the rubber industry heading.
According to R.J. Del Vecchio, president of Technical Consulting Services and 51-year rubber industry veteran, rubber is a vital part of our environments and an important element of society's ability to continuing advancing in the future, "Modern technology depends as much on elastomer technology as it does on steel, or concrete or anything else…For us to make taller buildings, and faster planes, and go to space, rubber technology is going to have to remain a part of that and keep advancing."
Daniel P. French, chairman and CEO of French Oil Mill Machinery Company, a family-owned manufacturer of rubber processing and molding equipment like dewatering and dryng presses, rubber mixers and hydraulic press systems, points out one of the many advantages of being in the rubber industry – the opportunity to travel the world and learn about many different cultures in the process, "We have customers in the synthetic rubber business in 25 countries…We get to see different cultures and different ways of doing things." At French, employees Think Global, by respecting and understanding of the diverse needs of their worldwide markets and tailoring equipment and service offerings to meet the specific needs of their existing and prospective customers.
From career guidance to technical insights on the future of elastomers, the video collaborators hope the video brings greater exposure to the rubber industry.
"The field is wide open," added John Long of J.M. Long Rubber Consultants, "It's only bound by what binds you. So let yourself go. Think outside the box. I'm 75…and every day I learn something new."
To access the video, simply click the link above or visit http://www.rdabbott.com/legacy.
You are invited to watch and share this video with your peers—but even more importantly—with the next generation of professionals looking for a sustaining career in an industry with seemingly unlimited opportunities.
French Oil Mill Machinery Company is an ISO-certified, 4th generation family-owned U. S. company that custom designs, manufactures and supports hydraulic press systems for molding rubber and composite materials, screw presses for synthetic rubber processing and for the separation of liquids from solids, and oilseed equipment used to extract vegetable oil from seeds and nuts, and to produce biofuels. Since 1900 French has partnered with stakeholders, in over 80 countries worldwide, to provide products with superior value and superior service that improve customers' productivity and reduce their overall production costs. French's 225,000 square foot corporate office and manufacturing facility are located in Piqua, Ohio.