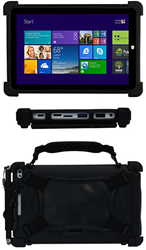 Enterprises across the globe can now rely on secure, enterprise-ready Windows in a ruggedized form factor at a truly affordable price point.
Hiawatha, Iowa (PRWEB) October 08, 2014
MobileDemand today introduced the xTablet Flex 8, the third new xTablet of 2014 and the thinnest and lightest to date. The new xTablet Flex 8 is part of the expanding family of tablets by MobileDemand which now offers customers the widest variety of form factors and price points of enterprise grade tablets in the industry. Six variations of ruggedness, sealing, size, and weight now offer the right tablet for any given job. Running Windows 8.1 Professional or Windows 8.1 with Bing, this 8-inch device is setting a new standard for rugged, enterprise-ready tablets, with a price point starting at only $595. The xTablet Flex 8 is masterfully designed for applications in field service, field sales, utilities, retail, hospitality and healthcare, where ultra-mobile devices are essential.
Enterprise-Ready, Unique Features Set the xTablet Flex 8 Apart - The xTablet Flex 8 has many business features which set it apart from consumer-grade tablets as well as other rugged tablets. It has an Intel BayTrail-T Z3770 processor, Windows 8.1 (Pro optional), a 1280x800 display, 4GB RAM and 64GB system storage provide business level performance in a lightweight (1.7 lb.), 8-inch form factor. Equipped with USB 3.0 and USB 2.0 ports, and Bluetooth 4.0, directly connect to peripherals such as a barcode scanner or receipt printer without requiring adapters. Finally, the xTablet Flex 8 is equipped with WiFi 802.11a/b/g/n for internet access and can utilize WWAN via internet sharing and Mobile Hotspot (MiFi) options.
Designed for Front Line Workers – When selecting a specific tablet to deploy to field employees, it's vital to take in to consideration the environment in which the tablets will be installed and how often the users will be handing the device. The xTablet Flex 8 is not only a powerful tablet itself, but comes standard with many of the accessories pre-installed for fast deployment and easy carrying. Included with the tablet is a ruggedized case, back hand strap, briefcase handle, stylus and scratch-proof screen protector. Typically for this class of tablets, one would have to research and pay extra for these accessories from third parties.
The rugged case is comprised of two layers for drop protection. The first layer with corner bumpers is made out of rubber which helps absorb the shock when the device is dropped. The second layer is a high-impact polycarbonate case that holds the rubber layer in place, but also provides mounting details for the back hand strap, briefcase handle, stylus holder, I/O door cover, and MiFi pouch. MobileDemand also applies an innovative screen protector that has a special coating to reduce finger prints and make water bead and safely run off of the touch panel, allowing for uninterrupted use in rain.
Secure, Windows 8.1 Professional - Regardless of the industry, there are countless opportunities to reinvent business processes for today's increasingly mobile and interconnected world. By offering a seamless experience for IT and across mobile devices and PCs, the xTablet Flex 8 utilizes Windows 8.1 which helps better engage customers, encourage a more productive mobile workforce and give companies a competitive edge. Rest assured its mission critical information is safe with built-in security features to prevent unauthorized transfer of data.
Rugged Right Out of the Box – Ready to make the move to affordable rugged tablets that endure tough environments? The xTablet Flex 8 comes business-ready. The factory-installed case is MIL-STD-810G for shock and drop from 4 feet while the screen protector can withstand an 8 oz. (228g) steel ball drop from 3.28 feet (100cm) and provides scratch protection. Equip mobile workforces with a rugged Windows tablet that can withstand accidents in the field.
Backed by Superior Support and Service - The xTablet Flex 8 comes with a 1-year warranty with optional extended coverage and is backed by industry-leading service and support from MobileDemand.
Mount in Vehicle in Minutes - The xTablet Flex 8 vehicle cradle, also known as the Snap Mount, is as lightweight as cradles come, but is still as sturdy and durable as all of MobileDemand's other mounts and takes only minutes to install. The xTablet Flex 8 Snap Mount is installed in passenger vehicles on the passenger side of the vehicle on to the nut and bolt which keeps the seat secure to the floor. It can easily be installed in under 10 minutes at the exact height and angle necessary. In addition, the xTablet Flex 8 has been tested and installed with the Snap Mount on forklifts,, providing added productivity in the warehouse at a reasonable price.
Companion to the new xTablet Flex 10 - Not only does the xTablet Flex 8 expand the family of MobileDemand rugged tablets, but it is the perfect companion for the xTablet Flex 10 which was announced in August 2014. With nearly identical specifications, the xTablet Flex devices give the end user a choice of screen size for optimal performance in the field. Both are rugged to withstand daily abuse, as shown in MobileDemand's recent torture chamber video series.
"The 8-inch xTablet Flex 8 is a great companion to the new xTablet Flex 10 and complements the wide range of rugged tablets MobileDemand currently offers. It's small and lightweight for all-day, mobile use but is also rugged to withstand the real-world abuse that happens in the field," said Jon Rasmussen, Senior Director of Product Management. "Enterprises across the globe can now rely on secure, enterprise-ready Windows in a ruggedized form factor at a truly affordable price point."
About MobileDemand
MobileDemand is the nation's leading provider of rugged tablets used in the transportation industry to improve productivity, anywhere. MobileDemand xTablets are used by mobile workers in many other industries including Oil and Gas, Food and Beverage Distribution, Manufacturing, Retail and Field Service to cut operational costs and improve customer service. MobileDemand xTablet Rugged Tablet PCs range from semi-rugged to military rugged and sealed to meet the performance you need for your work environment. They deliver the power, reliable performance and long-term savings companies need to achieve greater efficiency and productivity in the field. In 2013, MobileDemand earned the position of 800 on the Inc. 500/5000 list of the nation's fastest growing private companies. The company has built its success on a commitment to innovation everywhere – in product design, customer relationships and in its channel. MobileDemand. Innovation everywhere. Productivity anywhere. Additional information is available at http://www.RuggedTabletPC.com.