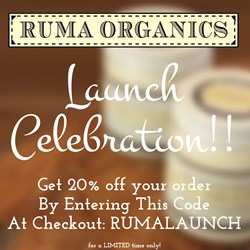 "I was frustrated with the organic deodorant options available on the market, so I created my own."
Macomb, MI (PRWEB) January 01, 2014
Local mom, Sylvia Ruma, has discovered that an all-natural deodorant she created for her family has quickly become a favorite alternative among metro Detroiters looking for a healthier option in underarm protection. Now, Ruma Organics is launching their deodorant and making it available to the general public.
Sylvia's journey into creating all-natural products began at 15 yrs. old while visiting her grandmother overseas. One night, while sitting near a canal, she was attacked by a swarm of mosquitoes. As Sylvia explained, "My grandmother made a paste of cornstarch and water which she applied repeatedly to my skin throughout the night. By morning, the bites were gone." This was the beginning of an interest in working with natural products.
Sylvia goes on to explain, "I had used coconut oil for hair and skin care and knew of its health benefits. I learned that sodium bicarbonate was an important factor in staving off cancer by keeping the body's ph level in an alkaline state. It made sense to use these products as a base for a deodorant."
Organic deodorants frustrated Sylvia. Many of the products just didn't do the job and she was tired of her husband's white shirts getting ruined because of yellow perspiration stains. Sylvia decided to try creating her own deodorant.
Over time the formula was refined and shared with family members and friends. Sylvia realized that she was onto something when the men and women in her workout class at the gym started coming up to her with requests for her product.
One of the women at the gym who requested the product was a cancer survivor. Knowing that deodorant absorbs through your lymph nodes and into the body, she was interested in trying a product that was all natural and healthy for her body. The deodorant impressed her so much that she mentioned it to A Woman's Image, a boutique created for women undergoing treatment for cancer. The center loved the product and began selling it at their locations in Royal Oak and Clinton Township.
Ruma Organics Deodorant can be found at each location of A Woman's Image and at Memphis Drugs in Memphis, MI. You can also order the product online at http://www.rumaorganics.com and through Amazon. The deodorant comes in three irresistible fragrances of lemon, lavender and peppermint. Products are sold in glass containers to remain environmentally friendly. Plastic containers are not used to avoid possible leaching of chemicals from the plastic into the product. Learn more about Sylvia and her organic deodorant by going to: http://www.rumaorganics.com.
To celebrate the launch of Ruma Organics, you can get 20-percent off your purchase when you place your order at: http://www.rumaorganics.com Offer runs through January 15th.