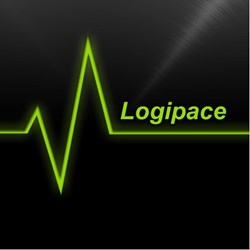 Fountain Valley, CA (PRWEB) October 16, 2013
Available today, the iPhone 4/4S app, Logipace, works to instantly improve athletic performance, targeted at running and cycling. It was shown in a randomized controlled clinical trial to improve a 3 mile run time by an average of 45 seconds, just by using the app published in the September 2013 issue of the Journal of Sports Science and Medicine (pp 381-387).
Cardio-Locomotor Synchronization (CLS) occurs when a rhythmic activity, such as running, biking, or walking, is performed in sync with the heartbeat. CLS has been shown in many published studies to improve the efficacy of the activity, increasing the volume of blood pumped by each heartbeat, reducing blood pressure variability, and lowering maximal oxygen consumption. Logipace uses CLS to enhance performance of any rhythmic activity, as well as lowering the stress on the heart and musculature. The app records heart rate real-time using the Wahoo Heart Rate Monitor (ANT+ Interface) or uses a target heart rate defined by the user. The app then uses a proprietary algorithm (patent pending), which determines the optimal pace frequency within a comfortable range that best matches a harmonic of the heart rate, and plays one of four different beats at that precise frequency. By matching his or her stride to the beat, the user is using the power of CLS to perform better and make the activity easier on the body.
Logipace is available in Free and Full versions. The Full version is now available (iPhone 4/4S) for $4.99. The Free version does not offer support for the real-time heart monitor. Instead, the user enters a target heart rate and the proper pace frequency is calculated from that.
Please visit http://www.logipace.com for more information on Logipace.
The Logipace app was developed by Logipace, Inc., founded in 2012.
###
For further information on Logipace, or to schedule an interview, please contact:
Bill Phillips, Founder
Phone: (714) 883-7890
Email: bill(at)logipace(dot)com