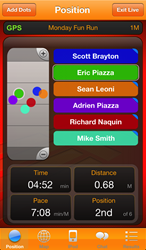 There are a lot of other running apps on the market but Running Club is the only one that lets you run live with friends around the world.
Sarasota, FL (PRWEB) July 01, 2014
Southdowns Interactive has put it's popular running app "Running Club" up for sale. The app offers a patent-protected live race feature that separates the app from it's competitors, and founder Eric Piazza is confident the app will offer value to a company looking to establish a presence in the fitness app marketplace. Piazza answers some of the questions interested companies may have below:
Q: What is the concept behind the Running Club app?
Eric: The Running Club app is a social running app that allows you to run in live, interactive races with other friends around the country. This live feature makes the app unique, because instead of just comparing times and sharing stats afterwards, runners can actually run together, seeing their progress compared to everyone else who is running in real-time, and even have a group chat before and after the run. We have found that these live interactions help motivate and inspire runners to get out and run harder and more often.
Q: How are runners benefiting from using the app?
Eric: There are a lot of other running apps on the market but Running Club is the only one that lets you run live with friends around the world. A few real examples of how people have used the live features to help gain motivation include: family and friends who live in different areas being able to run together, sports teams being able to stay connected and run together for off-season training, employees connecting through corporate training programs, a personal trainer conducting a live training series for the New York marathon, and Olympic gold medalist Demetrius Pinder finding a unique way to connect with his fans.
Q: Why are you selling the app?
Eric: We've had a lot of success with the app on a smaller scale, but we just don't have the resources to be able to compete with the big players in the market. We think the app can be largely successful if its able to gain the backing of a larger company or investment group.
Q: What types of companies would be interested in acquiring the Running Club app?
Eric: Companies targeting a running demographic, fitness companies looking to make an impact in the app domain, or investment groups who have experience marketing apps could benefit from acquiring the Running Club app. A recent survey shows over 20 million runners use their phones to track over 500,000 activities every day, so the market potential is significant. If the Running Club app is paired with the right organization, I think it has the ability to grab a large piece of this market.
Q: What else should an interested buyer consider?
We also have a patent pending on the live technology to protect against another app creating a similar feature. For this reason, even companies with an existing app may be interested in incorporating our live technologies into their own products, as well as gaining the added protection the patent provides.
Q: What is the asking price?
Eric: We are open to negotiation on the price. We will take all offers seriously and the app will be priced to sell. We came up with a starting price based on several models including price-per-user, cost-to-develop, and the value of the intellectual property, which we will be happy to share with any interested parties through our contact information below. The sale of the app will include all resources and rights associated with the app, as well as the rights to the pending patent that is protecting the technology that is used.
Q: Where can people go to find out more about the app?
Eric: Our website has more information about the app. See the Videos link for promotional material and News link for some recognition the app has received.
http://runningclubapp.com/
http://runningclubapp.com/videos/
http://runningclubapp.com/News.aspx
Q: How can people get in touch with you?
Eric: Interested parties can contact me directly at eric(at)runningclubapp(dot)com.