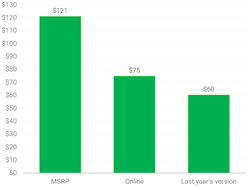 Buy running shoes online and save 38% ($46) on average.
New York (PRWEB) March 30, 2016
The independent running shoe review aggregator RunRepeat.com has compiled 183,911 prices of running shoes across 41 US retailers and 36 running shoe brands.
The key conclusion is that on average runners save 38.14% ($46.19) by buying running shoes online and another 19.36% ($14.50) by buying last year's version. It is generally said by runners and retail store owners that current version running shoes are not discounted anywhere, since brand contracts disallows this. Fortunately to the runners, RunRepeat.com found that 86% of all running shoes are available at a discounted price online, and 56% of all running shoes are available at a 30% to 69% discount online.
RunRepeat.com dug deeper into the numbers and found a few running shoe specific results as well. They found that multisport brands are discounted 12.95% more than running specific brands, that the more arch support you request, the more expensive the running shoe is and that competition shoes are 17.01% ($13.22) cheaper than every day running shoes.
Also, they found that the worse the reviews of a running shoe, the higher the discount, and that running shoes are $5.60 more expensive for every ounce heavier it is.
Finally RunRepeat.com compared each of the 41 US retailers and found that the best savings are available at Sierra Trading Post (41%) followed by Amazon (34%) and Shoebacca (30%). On current version running shoes the lowest savings were found at Road Runner Sports (1%), Denali Outdoor (1%) and Zappos (4%).
All results and the full analysis including 21 graphs is found at http://runrepeat.com/running-shoe-prices-analyzed
For questions or interviews contact RunRepeat.com founder Jens Jakob Andersen at jens(at)runrepeat(dot)com or +45 29 29 29 58.