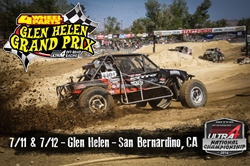 We're looking forward to racing because last year Tim Mongi had passed away and we weren't able to compete. We'll be running in memory of Tim and excited about racing in different handling vehicles than short course trucks.
Compton, California (PRWEB) July 10, 2014
4 Wheel Parts, prominent retailer of aftermarket parts for the off-road industry, is title sponsor of the Glen Helen Grand Prix on July 11-12 in San Bernardino, California. Racers will compete at the 4th annual ULTRA4 event that will whittle down from over 80 competitors to the top 40 drivers for the main event. Greg Adler, of Team 4 Wheel Parts, his brother Kevin, and Brent Goegebuer will be among the field in the races happening this weekend.
"We're looking forward to racing because last year Tim Mongi had passed away and we weren't able to compete," says Greg Adler, 4 Wheel Parts' President & CEO. "We'll be running in memory of Tim." Mongi tallied 25 years of service with TAP, acting as Chief Financial Officer and eventually becoming the Chief Operating Officer.
"I have won at Glen Helen in my LOOORS Pro-4, but these rock racers handle a lot different than short course trucks," says Adler. "It's a competitive field, but we hope to put the 4 Wheel Parts/5-hour Energy rig on the podium."
Practice and qualifying rounds get underway on Friday with the Ultra4 main event happening Saturday at 5:30. The Glen Helen Raceway short course features jumps and hill climbs with a backwoods section. Goegebuer says he plans to run 35 inch BFG tires on his buggy for quicker acceleration.
"Last year, we lost someone very special and my brother Greg and I still miss Tim," says Kevin Adler. "Mongi was a big supporter of my racing and always asked me about it."
Glen Helen Motorsports Park in San Bernardino consists of 256 acres, and for the Grand Prix it will be turned into a 3-mile course. Sections will include the Lucas Oil short course track, REM Nationals Motorcycle courses, jumps and challenging hill climbs, the nearby trail network, and enduro cross. After continuously racing for two straight hours, the winner will be decided based on the number of laps and finishing position.
Since the inaugural event in 2011, a sizeable number of drivers cite Glen Helen as their favorite race. Vendors will be onsite selling aftermarket truck and Jeep parts and exterior accessories, and 4 Wheel Parts is the event's main sponsor.
About 4 Wheel Parts: 4 Wheel Parts is a retailer and service provider specializing in aftermarket parts for off-road and 4x4 enthusiasts. With over 60 locations in North America, 4 Wheel Parts supplements its retail centers with a robust mail-order and e-commerce distribution network to serve customers around the country and around the world. 4 Wheel Parts carries a large inventory of truck and Jeep parts, whether off-road enthusiasts are looking for running boards, wheels, fender flares, or other accessories.