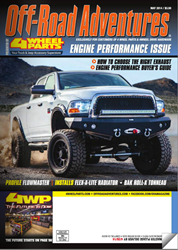 I am confident that we can enhance the product further to serveboth our readers and advertisers even better. It is a great opportunity not just forme, but for all involved.
Compton, CA (PRWEB) May 20, 2014
After 15 years at the helm of 4 Wheel Parts' Off-Road Adventures magazine, Denis Snow, the creator, editor and publisher is leaving his position. He is finishing up with the June and July issues, and then will hand over the editor and publisher duties with the August issue to magazine veteran, Craig Perronne.
Denis has enjoyed working with the 4WP/TAP family as well as with all of the product vendors helping to create an informative and entertaining publication. He is particularly proud of the magazine's promotion of the sport, responsible off-roading principles, and land access issues. He's also proud of the Operation Light Sabre program that he and Greg Adler created that shipped 2400+ offroading lights for use on U. S. military patrol and rescue vehicles in Iraq and Afghanistan.
Craig Perronne comes to Off-Road Adventures with an extensive background in off road, motorsports and publishing. For the last ten years, Craig worked as Editor In Chief for Dirt Sports Magazine where he played a critical role in its launch and development. His experience also includes positions at Four Wheeler, 4-Wheel & Off-Road, 4Wheel Drive & Sport Utility and Off-Road magazines as well as http://www.Off-Road.com. With over 17 years of experience in publishing and lifetime spent in the dirt, Craig will be a great asset to Off-Road Adventures as its new Editor and Publisher.
"I am both happy and excited to be part of the 4Wheel Parts and Off-Road Adventures team," commented Craig Perronne. "I look forward to working with our advertisers, freelancers, writers and the rest of the Off-Road Adventures staff to create an industry-leading magazine. With the latest addition of talented Creative Director Eddie Melendreras along with myself and the rest of the team already in place, I am confident that we can enhance the product further to serve both our readers and advertisers even better. It is a great opportunity not just for me, but for all involved."
Both Denis and Craig will work together on the August issue to insure a smooth transition with Craig fully taking the reigns for the September issue. Craig can be reached at 310-900-5546 or via email at cperronne(at)oramagazine(dot)com.
About 4 Wheel Parts: 4 Wheel Parts is specialized aftermarket parts retailer for 4x4 and off-road enthusiasts. With 64 locations throughout North America, 4 Wheel Parts installs all the products it sells while also operating a robust mail-order and e-commerce distribution network to serve customers across the country and around the world. 4 Wheel Parts is the carrier of North America's largest inventory of truck and Jeep parts including running boards, suspension systems, Jeep wheels and more. Their toll-free order number is 877-474-4821.