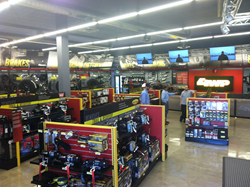 We went from old school to new school. It's a whole new look, like a nice face lift.
Compton, CA (PRWEB) March 25, 2014
On March 29, from 9 a.m. to 5 p.m., the Compton 4 Wheel Parts store (400 W. Artesia Blvd. Compton, CA) will be holding a Grand Re-opening to celebrate their newly remodeled store. Experts will be on hand to answer questions, offer advice and help customers pick out the new truck and Jeep parts they dream of. They'll even save some serious dough with clearance prices in the parking lot sale, which will be jam-packed with off-roading supplies.
Other perks of attendance include free food, hourly drawings, a free t-shirt for the first 100 people through the door and the chance to experience the store's remodel first-hand.
"We went from old school to new school," says Assistant Manager Fernando Hernandez, "it's a whole new look, like a nice face lift."
New floors, lights, ceiling and displays make it easy to locate and interact with the parts customers are looking for. With even the biggest accessories on display, customers can see and touch the parts they want before making a purchase. In fact, greeting customers at the entrance is a 2008 Jeep Wrangler, and it's connected to the store's newest endeavor: the Interactive Garage.
Though still in prototype mode, once it's completed customers will be able to navigate the Interactive Garage on a large touchscreen, allowing them to take a stock Jeep and turn it into a personalized marvel. From running boards and lift kits to mud flaps, customers will be able to accessorize their virtual ride and then make it a reality by picking up their parts of choice from the store room.
The event will feature special pricing on items such as the Smittybilt XRCB Winch and instant rebates on Pro Comp, G2 Axle & Gear and other select brands.
A virtual tour of the store will soon be available through Google's Inside Street View.
About 4 Wheel Parts: 4 Wheel Parts is a retailer specializing in aftermarket parts for off-road and 4x4 enthusiasts. With 64 locations in North America, 4 Wheel Parts installs all the products it sells while also operating a robust mail-order and e-commerce distribution network to serve customers across the country and around the world. 4 Wheel Parts carries North America's largest inventory of truck and Jeep parts including exterior accessories, tonneau covers, Jeep wheels and more. Their toll free ordering number is 877-474-4821.