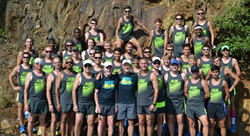 The goal of the camps is to educate and entertain the campers to become smarter runners.
San Rafael, CA (PRWEB) March 13, 2015
Adding to the already renowned high school programs at the Nike Green Mountain and Smoky Mountain Running Camps, the 2015 lineup features programs designed for the middle school runner and offers special Advanced Placement (AP) classes for the elite runner who wants college level instruction in the Art and Science of Running. AP sessions are offered during all weeks of camp. At the Nike Running Camps, the goals are to stimulate a love for running, and to aid runners in becoming better, faster, and smarter athletes. They provide an educational and inspirational experience for youth runners of all skill levels and abilities.
The Green Mountain Running Camp, at its new location at the prestigious Kimball Union Academy, Meriden, New Hampshire, celebrates 41 years this summer. The Smoky Mountain Running Camp operating on the campus of UNC Asheville, North Carolina, proudly has educated and trained runners for 43 years. The goal of the camps is to educate and entertain the campers to become smarter runners.
During all of the camp sessions, campers live the life of a collegiate athlete while staying in the dorms and training at the schools' facilities. All of the Nike Running Camps offer the perfect opportunity for campers to focus on their specific event and learn from the knowledgeable and passionate staff.
About US Sports Camps, Inc.
US Sports Camps (USSC), headquartered in San Rafael, California, is America's largest sports camp network and the licensed operator of Nike Sports Camps. Over 75,000 kids attended a US Sports Camp program in 2014. The company has offered summer camps since 1975 with the same mission that defines it today: to shape a lifelong enjoyment of athletics through high quality sports education and skill enhancement. Athletes, Coaches, Parents and others interested in learning more about our 2015 Nike Sport Camp programs can visit http://www.ussportscamps.com or call 1-800-645-3226.