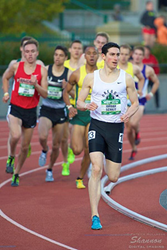 At Green Mountain Running Camp, we're excited to congratulate Jordan on his most recent coaching deal.
San Rafael, CA (PRWEB) June 03, 2016
Green Mountain Running Camp, one of US Sports Camps and Nike Running Camps' most elite cross-country camps, is lucky to have Jordan Schilit on the coach roster this year. Jordan, a six time NCAA Division III All-American, and seven time Centennial Conference championship winner, has so much to offer young runners. He recently ran for the semi-professional running club, Team Run Eugene, in Eugene, OR. Now the current Middlebury College Men's and Women's Track and Field Assistant Coach, he's joined the Maccabiah World Games coaching staff as the Head Coach for the USA Junior Track and Field team in 2017.
Jordan is a two-time Maccabiah World Games alumnus, where he not only excelled, he learned to love the sport of running. The games are held each year in Israel as Jewish athletes from all over the world travel to compete. Jordan attributes much of his running success to his first coach whom he met at the Maccabiah games. He hopes to inspire his junior athletes and to instill a passion for the sport, similar to his own experience.
"At Green Mountain Running Camp, we're excited to congratulate Jordan on his most recent coaching deal," states Jan O'Connor, Executive Vice President at US Sports Camps. "He undoubtedly brings valuable experience and insight to help young runners improve their technique." He has a drive to share his knowledge and motivate the younger generation of runners so that they might get to experience some of the things he has been able to accomplish.
Green Mountain Running Camp is located in Meriden, NH, is open to ages 14-18 for all sessions and ages 11-14 for the first week. Camp runs each week, July 24th through August 12th. For more details, visit http://www.ussportscamps.com or call 1-800-NIKE-CAMP.
About US Sports Camps, Inc.
US Sports Camps (USSC), headquartered in San Rafael, California, is America's largest sports camp network and the licensed operator of Nike Sports Camps. Over 75,000 kids attended a US Sports Camp program in 2015. The company has offered summer camps since 1975 with the same mission that defines it today: to shape a lifelong enjoyment of athletics through high quality sports education and skill enhancement.