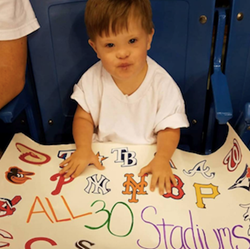 We hope that by meeting Ted and seeing the amazing bond he has with his brother Roy, that others in our community can see that there is so much to love about loving someone with Down syndrome.
HOFFMAN ESTATES, Ill. (PRWEB) August 12, 2018
A family of four from Arizona is taking a cross country road trip to all 30 major league baseball stadiums in three months to raise awareness and acceptance for Down syndrome. The "Runs for Ted" fundraiser benefits GiGi's Playhouse, a nationwide non-profit and the only Down syndrome achievement center of its kind.
Ted's parents explained, "Runs for Ted" started as a little league rallying cheer after our two-year-old son, Ted, was diagnosed with Trisomy 21, or Down syndrome, at his birth in the Spring of 2016. That simple cheer motivated his big brother Roy's team and filled our hearts with so much encouragement that it has since morphed into a fundraising campaign that unites our family's love of baseball with our love of the Down syndrome community."
"Runs for Ted" goal is to introduce people to Ted, to advocate for him and all his friends with Down syndrome in hopes of raising $50,000 to support GiGi's Playhouse and the many FREE therapeutic, educational, and career development programs that are offered to individuals with Down syndrome. GiGi'S Playhouse breaks down barriers and changes the way the world sees individuals with Down syndrome by fostering acceptance and hope for everyone through the #GenerationG campaign.
GiGi's Playhouse Chicago is hosting an Open House from 10-11 AM welcoming Ted and his family to Chicago. GiGi's Playhouse Founder and Chief Belief Officer, Nancy Gianni, and her daughter GiGi, will make a special guest appearance and escort the "Runs for Ted" team in the GiGi's Playhouse Jeep to Wrigley Field. All Chicago neighbors and friends who are looking to learn more about #GenerationG and the mission of GiGi's Playhouse are welcome to attend.
Each team or stadium the "Runs for Ted" family visited has graciously offered tickets and autographed baseballs for raffle. All funds raised are donated to GiGi's Playhouse. You can follow the adventures of Ted and his family as they trek 18,000 miles in a minivan to watch some baseball, see the beautiful country and spread awareness about Down syndrome and GiGi's Playhouse on their "Runs for Ted" Facebook page or on their website at https://www.runsforted.com.
About GiGi's Playhouse: The ONLY network of Down syndrome Achievement Centers, GiGi's Playhouse is an inspirational and dedicated place for families to celebrate their child and benefit from FREE life-changing therapeutic, educational and career training programs that unleash joy, confidence and continuous improvement. Playhouses empower children and adults to achieve their "Best of All" and to pursue their dreams. Founded by GiGi's Mom, CNN Hero Nancy Gianni, in Hoffman Estates, IL, the organization now includes 37 community Playhouses and mobile locations, including the first global Playhouse location in Mexico. For more information about free programs, volunteerism, impact partnerships, events and the many ways to support our families: visit http://www.gigisplayhouse.org.