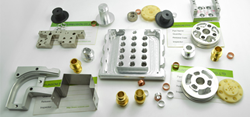 Runsom Precision Ruling the Market with Bespoke China Machined Parts
(PRWEB) August 30, 2014
Working since 2005, this company has been successfully supplying high quality China machining parts at reasonable prices. It is their hard-work and dedication that has earned them good-will in the industry. From precision engineering components, injection machine parts to CNC machined parts, Runsom Precision supplies their products to companies who require lessening their affordable machines to meet their tight deadlines. The owner of the company said, "We take pride in delivering top class machine parts at reasonable prices to satisfy our customers."
Runsom Precision not only has carved niche in supplying aerospace machining parts and prototype machining, they have equally gained applauds in offering custom machines and their parts. Working with skilled workers over the years, this company has always managed to deliver bespoke machinery on time. The company is very proud to have been able to supply machined components in no time, also adding CNC turning parts at a later point. Keeping up to their standard of service, the company has been conducting strict quality control checks to ensure that the best of products are delivered. This is why Runsom Precision has been able to offer high quality and precision machined parts to their worldwide clients.
When asked about their success in the industry, a spokesperson said, "We make effective scheduling to keep a record of the workflow and ensure to be in good communication with our clients to manufacture machines and China machining parts of their needs. Thanks to our efficient project management system, we now can deliver the best units on time." When it comes to their product quality, each machinery part is manufactured with advanced technology and therefore is planned with innovative designs.
Other than being one of the best in supplying bespoke China machines and their parts, they are also committed to offer customer service.
To know more about China machining parts visit http://www.custom-machining-parts.com/.
About the company:
Runsom Precision is dedicated to supply top quality machined parts from China at affordable prices. Companies looking for bespoke machineries can contact them.