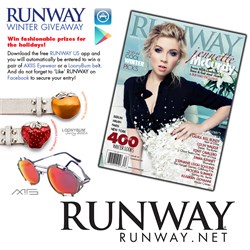 @RUNWAY
(PRWEB) January 08, 2014
To celebrate fashion trends of the new year, Runway® is launching a 2014 Fashion Winter Giveaway now through January 21st, 2014. Runway readers can sign up to enter on the website by visiting http://www.Facebook.com/Runway or enter on http://www.runwaylive.com/contest.html. With a winner chosen daily, winners will be awarded their choice of a pair of Axiis Eyewear or a LoonyBum Juicy belt by the specification made on their entry form.
Participants of the giveaway contest will also get additional chances to win with bonus entries by following Runway and Runway Teen on Facebook, Twitter, and Instagram and by downloading the free RUNWAY US app from Apple or Google Play.
About RUNWAY:
RUNWAY, a quarterly international fashion magazine, is committed to providing its readers with the highest form of fashion expression. Through the use of multiple platforms, including: print, digital, social media, mobile, and emerging technologies—RUNWAY strives to deliver advanced fashion coverage to its readers while remaining at the forefront of cutting-edge trends. RUNWAY's goal is to be "all things fashion, beauty and entertainment" to women around the globe.