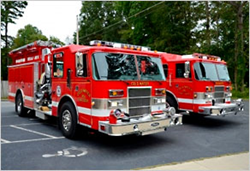 I would definitely say that it is and can be used as a retention tool. I've seen an increase in participation in the last few months due to members feeling (more involved) and being informed of changes and updates within the department. -- Asst. Chief Jason Walker, Cold Water VFD
CONCORD, N.C. (PRWEB) March 13, 2019
Cold Water Volunteer Fire Dept. may be neither the busiest nor largest fire department in the greater Charlotte area, but a new software application puts their members at parity with 10 of their neighboring agencies.
Aladtec, a cloud-based scheduling and communications platform, has helped to bring fairness to Cold Water VFD's monthly scheduling process and a new level of transparency to the 34-member force. It has also shaved time off monthly payroll preparation, according to Asst. Chief Jason Walker.
"Using this program allows everyone to see who is working via their phones, versus having to come to the station or taking a picture of the calendar," said Walker. Whenever a change is made "it automatically updates for all to see."
Cold Water VFD responded to about 400 calls last year in the 19-square-mile region they cover. About 60 percent of those calls were medical-related, where members respond to assist paramedic-level Cabarrus County EMS.
Walker, who is also a full-time Captain with neighboring Harrisburg Fire Dept., learned about Aladtec when then Harrisburg Captain -- now Chief -- Tim Wooten, subscribed to the program three years ago to help manage his 66 full- and part-time members.
"Part-time members can put in their availability, and then the system allows us to select the people who are available quickly. It also allows us to see how many hours they have already worked in a certain time period to help us avoid unnecessary overtime," Wooten said. "I estimate we save about 10 hours per week in scheduling time now."
By controlling overtime, Harrisburg saved more money than the annual subscription fee invested in the Aladtec software, and scheduling errors dropped dramatically. They also harnessed Aladtec's forms feature to complete daily truck checks and requisition supplies, using a smartphone or tablet. Previously, forms could only be accessed using a department desktop computer.
Assistant Chief Walker likes the fact that Aladtec allows him to post items like board meeting minutes and announcements so Cold Water members can stay up-to-date without having to visit the station.
And part-time members now have an equal shot at signing up for available hours.
"Before we had a sheet and it was a first-come, first served kind of deal. I felt this system would allow all members to have a chance at all the days of the month," said Walker, noting that members now know sign-ups open on a consistent day each month. "It also has saved time on completing payroll. I have payroll completed in less than 5 minutes."
Firefighters at Cold Water range in age from the early 20's to the late '50s, Walker said. Younger members enthusiastically embrace smartphone technology.
At a time when some volunteer fire services struggle to keep members and recruit new ones, Walker thinks Aladtec will be valuable.
"I would definitely say that it is and can be used as a retention tool. I've seen an increase in participation in the last few months due to members feeling (more involved) and being informed of changes and updates within the department."
Walker says Aladtec "clarifies communication," as opposed to members hearing things word-of-mouth. "That can change from person to person."
Nine other fire agencies in the greater Charlotte area also use Aladtec.
Members of the Midland Volunteer Fire Dept., about 15 miles southwest of Concord, have been using Aladtec since early 2013.
Deputy Chief Jason Cook said members appreciate how easily firefighters can sign up for shifts and request time-off, using their smartphones. They use the e-forms functionality for equipment checks and timecard submissions.
Cook's "ah-HA" moment came when he figured out how to use Aladtec to display a two-week version of their schedule on a large monitor in the station house.
Huntersville, a rapidly growing suburb on Charlotte's north side, is protected by the 130-member Huntersville Fire Dept. The agency staffs four stations, situated across its 63-square-mile coverage area. They responded to more than 6,500 calls last year.
Chief Jim Dotoli studied about 12 different digital scheduling programs and visited Harrisburg to see Aladtec in action before deciding to subscribe in early 2016. Along with scheduling tools, he liked the fact he could use Aladtec for payroll reporting.
"I also sign up our 110-member combination department by rank," Dotoli noted in an e-mail exchange last year. "As Chief, I feel a person's rank and seniority means something, and Aladtec allows me to put my officers in first then put my firefighter on the schedule based on the seniority-hire date.
"Fire departments all over the world believe in a ranking system, and it's great that the Aladtec program can do this and to go even further, with a hire date if there are multiple members at the same rank," said Dotoli.
Cold Water VFD Asst. Chief Walker has been pleasantly surprised by features, the more he uses the application.
"Many of these were when I was designing a form for tracking purposes. Mainly too when I realized just what all the system can do, it seems to be endless to a point.
"Using this program allows everyone to see who is working by using their phones versus having to come to the station or taking a picture of the calendar. If the calendar has to be updated, then it automatically updates for all to see. (Aladtec) has also helped address the use of paper copies on many items, including truck checks, training forms and repair requests to list a few. As mentioned earlier, it has overall streamlined many of the daily operations that have to take place."
Other Charlotte-area departments using the program include Matthews Fire & EMS, Matthews; Flint Hill Fire Dept., Fort Mill, SC; Stallings Fire Dept. Indian Trail; Midland Volunteer Fire Dept., Midland; Georgeville Fire Dept., Concord; Waxhaw Fire Dept., Waxhaw; West Stanly Fire Dept., Locust; and Mount Pleasant Fire Dept., Mount Pleasant.
Aladtec has 92 customers across all of North Carolina, including 52 fire departments.
For more information, visit http://www.aladtec.com