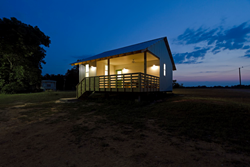 We are thrilled to celebrate this innovative partnership to continue our affordable housing research.
Chattahoochee Hills, GA (PRWEB) September 03, 2015
The Art Farm at Serenbe is the site for the first wave of 20K Houses built in collaboration with Auburn University's award winning Rural Studio program, to be used as live-work artist cottages. The project broke ground last Friday with completion expected November 2015. The first 20K House artist cottage will support over 50 artist residencies in 2016.
The relationship between The Art Farm at Serenbe and Auburn University's Rural Studio is multifaceted. Serenbe's institute for arts and culture, The Serenbe Institute is limited in the number of artists it can bring and house each year and the collaboration with Rural Studio responds to this need. The Art Farm will be built out to house multiple artists and nurture the arts in the Atlanta region. The collaboration was also initiated to expand Rural Studio's nationally recognized 20K Houses that have brought affordable housing to clients in rural Alabama.
"We are thrilled to celebrate this innovative partnership to continue our affordable housing research," says Rusty Smith, Associate Director of Rural Studio at Auburn University, "This is the first collaboration of its kind for Rural Studio, and we are eager to learn from skilled developers that can document permitting, costing and help flush out issues to clarify plans for the general public to build. Rural Studio and Serenbe have a shared design philosophy where connections between people, nature and the arts are nourished."
Rural Studio is engaged in many types of public and private projects, including designing and building homes. In their ongoing project referred to as the "20K House," students are faced with the challenge of designing a mass-market affordable house that can be built by a contractor in a market-rate economy. The 20K House began in 2005 as an ongoing Rural Studio research project to address the need for affordable housing in Hale County while simultaneously creating an industry of small, local home building. The initial experiments all consisted of single bedroom homes built for $20,000, but most recently Rural Studio has expanded the program to include models that have two bedrooms. To date, Rural Studio has designed and built seventeen prototypes for the 20K House.
"We have admired and followed Rural Studio over the years and are honored to partner with them on this important project" states Steve Nygren, Founder of Serenbe, "Providing Rural Studio with valuable research and learnings while also supporting artists, demonstrate our passion for community and vision as placemakers."
Rural Studio's 20K House will be built by experienced local Chattahoochee Hills contractor Simon Shell and the process has already provided extensive learnings for Rural Studio.
Other project partners include Steve McKenzie, of Steve McKenzie's, and Kerry Howard, current President of ASID and owner of KMH Interiors, who are designing the interior cottage spaces, that will include lighting donations from Workstead of New York with more interior design product partners to be released.
The first cottage to be built has been gifted to AIR Serenbe, an artist residency unit of The Serenbe Institute ,where artists of all disciplines are nominated annually by a National Advisory Council before being invited for a formal residency. Upcoming AIR artists in residency are Adam Koch 9/1-9/14, Andrew Moore 9/21-9/30, Taylor Eigsti 9/27-10/10, Paul Rucker 10/16-11/13 and Jamie Burmeister 11/20-12/5.
The Art Farm at Serenbe has already produced innovative designs and programming. The stage and deck outside the main house was repurposed from the shipping containers used to deliver the building's materials. A successful Art Over Dinner series is held in the containers throughout the year, multiple music and films events plus Serenbe Playhouse's A Streetcar Named Desire were performed to sold-out crowds this past summer. To date, over 45 events and more than 30 artists have benefited from the support of Serenbe and The Art Farm.
A formal ribbon-cutting event will be held upon completion of the first artist cottage in late fall. Then the cottage will be open to the public for tours plus metro-Atlanta artists will be invited to stay for shorter residencies as part of the launch, as well as, prominent writers, bloggers and editors.
About Serenbe
Serenbe is pioneering a new community model connected to nature on the edge of Atlanta. It is a neighborhood with fresh food and fresh air that makes wellbeing as natural as nature itself. A community where people live, work, learn and play in celebration of life's beauty. Where connections between people, nature and the arts are nourished. http://www.serenbe.com
About Rural Studio
Rural Studio is an off-campus design-build program of Auburn University. The program, established in 1993 by D.K. Ruth and Samuel Mockbee, gives architecture students a more hands-on educational experience whilst assisting an underserved population in West Alabama's Black Belt region. Rural Studio philosophy suggests that everyone, both rich and poor, deserves the benefit of good design. To fulfill this ethic, the Studio has evolved towards more community-oriented projects that have become multi-year, multi-phase efforts traveling across three counties. Rural Studio has built more than 150 projects and educated more than 600 "Citizen Architects." The 20K House project began in 2005 as an ongoing Rural Studio research project to address the need for affordable housing in Hale Country, Ala, provide an alternative to the mobile home and accommodate potential homeowners who are unable to qualify for commercial credit.
About 20K Houses
After intense scrutiny and testing of these prototypes, Rural Studio has developed the foundation for what we refer to as the "20K House Product line." The Initial product line includes three (3) one-bedroom houses named for their owners: Dave's House (2009), MacArthur's House (2010) and Joanne's House (2011). Future additions to the 20k House Product Line will include multiple bedroom options such as: Bobby's House (2014), Michelle's House (2014) and Sylvia's House (2014) as well as homes with integrated accessibility and storm sheltering features such as: Turners House (2012) and Eddie's House (2013).
In taking the 20K House from "Project to Product," Rural Studio has engaged with outside consultants to aid in aligning the 20K House documents with the current International Residential Code as well as Federal Housing Authority (FHA) and United States Department of Housing and Urban Development (HUD) guidelines. To date, two model homes have been built in Hale County, with the third to be built in the fall of 2015. These public models will be used for showing the homes to potential clients, as well as for environmental performance testing and other interests of Rural Studio. As a next step Rural Studio has most recently partnered with the Serenbe Institute to "field test" the constructability and performance of the 20k House Product Line outside of the Studio's direct oversight and control. Once these field tests have been deemed successful it is the ultimate goal to develop a set of construction documents and specifications complete enough for construction in a climate similar to our local region, and easily adjusted to meet the building requirements of other areas beyond.
In total since 1993, Rural Studio has completed over 160 projects, and educated over 900 "citizen architects." But perhaps more importantly, Rural Studio produces ideas and methods that can be useful not only to the communities of rural West Alabama, but our lessons-learned and best practices may also be transferred to other similar endeavors around the world.