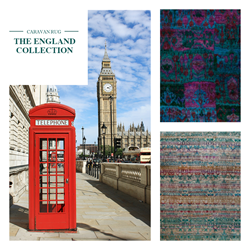 Largest Rug Store in Los Angeles - Beverly Hills
Los Angeles, CA (PRWEB) February 28, 2014
Caravan Rug, a world-renowned producer and distributor of fine, handmade rugs, announces the opening of its newly remodeled showroom in Los Angeles - Beverly Hills. The rug showroom, formerly open only to the trade, will now be open to the general public on a by-appointment-only basis.
Known for decades as a leading purveyor of traditional, antique and modern area rugs, Caravan is now showcasing a new line of trend-setting designer rugs for 2014. These exciting rug designs are capturing the attention of the industry's top interior designers, and are on track to emerge at the forefront of today's area rug couture.
Caravan Rug also has manufacturing facilities, where rugs are handcrafted to exact specifications, in Pakistan, Afghanistan, India and Nepal. There they create works of art in wool, cotton, linen, silk, bamboo, aloe, viscose, hemp and jute, and a wide variety of textures, washes and finishes that must be touched as well as seen to be fully appreciated. Now the buying public has a chance to do just that at the newly-remodeled, giant rug store in Los Angeles - Beverly Hills.