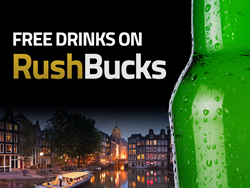 RushBucks is always stepping up their game as one of the leading marketing affiliate programs in the industry.
Gibraltar (PRWEB) June 16, 2014
THE RUSHBUCKS BOOTH
RushBucks is proud to sponsor their own booth at the upcoming iGB Affiliate conference in Amsterdam. For the third year in a row, RushBucks will be attending the iGB Affiliate conference. Come and have a drink with the top binary options affiliate managers in the industry. RushBucks will have over ten representatives at the upcoming conference. Make new connections and uphold existing relationships at the RushBucks bar. Not only are all of the drinks included, but RushBucks will have plenty of free giveaways. The RushBucks affiliate managers will be offering special promotions exclusive to conference attendees! So come, sit, relax, and have a drink at booth H16 from June 25-26 in Amsterdam.
"We're looking forward to meeting all of our affiliates, old and new, and getting to know them a little better over a drink or two at our booth," stated Marc Kerry, the Rushbucks press secretary. "These conferences give us a chance to come face to face with the people who have helped grow our business. It also gives us a chance to say a personal thank you to all of our hard-working affiliate partners. We are very excited for the Amsterdam conference and have a lot of great deals and promotions in-store to share with our affiliate marketing partners."
iGB AFFILIATE CONFERENCE
The iGB Affiliate Conference is one of the best ways to make new connections in the online gaming and marketing industry. The conference will take place June 24th through June 26th in Amsterdam and participation is free for all affiliates. The Financial Partners Expos' goal is to provide an educational and networking platform for online affiliates and new brokers. It is expected that over 3,200 delegates will attend, with over half of them being affiliates. Not only is this one of the best places to network and meet RushBucks affiliate managers, but the conference will offer speakers, marketing insight and much more. Registration is free for this expo, and RushBucks encourages affiliates to participate.
WHAT'S NEW AT RUSHBUCKS?
RushBucks is one of the leading marketing affiliate programs in the industry. They have one of the most exclusive marketing platforms. RushBucks provides their affiliates with marketing, reporting and tracking features including custom campaigns, sub campaign IDs, source IDs, pixel tracking, dynamic link structures, URL shorting and a robust API. These new customized marketing tools ensure the best binary options conversions. This program also has a new special promotion. If an affiliate sends ten depositing traders, they can receive a $1,000 bonus! They are also proud to announce that they now have account management in eight different languages. RushBucks stays on top of their game and that is why they have become the number one binary options affiliate program in the industry.
ABOUT RUSHBUCKS
RushBucks has grown to be the best marketing affiliate program in the binary options niche. RushBucks is the binary options affiliate program for the brokers TradeRush, Redwood Options and Boss Capital. RushBucks has one of the highest CPA rates and parent affiliation percentages in the industry. Also, they offer support in English, French, Japanese, German, Russian, Swedish, Spanish and Arabic for their worldwide affiliates.
WANT TO BECOME AN AFFILIATE?
If you would like to join the best marketing affiliate program, then sign up RushBucks.com. Once you sign up, an affiliate manager will contact you. Join the RushBucks team and start becoming an affiliate for the best converting brands in the industry.