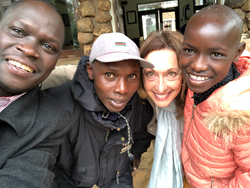 "Seeing the sickness firsthand and learning about the tragedies in Zambian villages that I visited has helped me to understand the need for more wells to be funded which bring clean water to so many in need.''
SCOTTSDALE, Ariz. (PRWEB) August 24, 2018
Clean water is a basic necessity, yet this is something that most of us take for granted. However, for millions of others, it is a luxury, which is why Sotheby's Realtor Cheryl D'Anna has pledged to donate a portion of her commissions to Golf Fore Africa. Her partners, Donna LeGate and Bob Terry of Russ Lyon Sotheby's International Realty, are also contributing.
The mission of Golf Fore Africa, founded by LPGA Hall of Fame golfer Betsy King, is to bring hope and change to children and families living in extreme poverty in Africa by bringing clean water to their villages, healthcare clinics, and schools.
"The joy that comes from making a difference in a person's life is unspeakable. Seeing the sickness firsthand and learning about the tragedies in Zambian villages that I visited has helped me to understand the need for more wells to be funded which bring clean water to so many in need. One well changes the lives for the entire village forever, allowing the children to thrive," said D'Anna.
Golf Fore Africa partners with World Vision to provide clean water that lifts children out of poverty in Zambia. There are still over 600 million people globally who are without access to clean water. Every day, nearly 1,000 children younger than 5 years old, die from diarrhea caused by contaminated water and poor sanitation. The global water crisis disproportionately impacts women and girls who spend an estimated 200 million hours hauling water every day - usually from contaminated sources.
Women typically walk 4-8 hours a day to collect water for their families. Oftentimes they are at risk from snakes and wild animals or they fall in and drown in the water holes. When clean water comes to a village it changes lives forever, especially for the women and girls.
"Mothers now have more time with their family, and the girls have time to go to school," noted D'Anna, who recently went with Betsy King to visit African villages and help dedicate four new wells funded by Golf Fore Africa donors. "These lovely people learn hygiene practices through programs administered by World Vision. Something as basic as washing hands provides longevity and a healthier, happier life. My experience working with Golf Fore Africa and visiting the villages in Africa is what makes it worthwhile for me by making my life more meaningful and fulfilled. I know that I am making a difference in a family's life that lasts a lifetime."
The next Golf Fore Africa's Strong Women~Strong World luncheon in Scottsdale will take place at the Four Seasons on Thursday, November 6th with special guest speaker, Richard Stearns, the CEO of World Vision. At last year's event, D'Anna and Legate helped to fund three wells. Two of the wells were completed in June 2018 and the third will be complete next month. "The well dedication ceremony was an incredible site to behold and the love and joy that the people showed was extraordinary," added D'Anna.
To donate directly to Golf Fore Africa, please visit
https://4agc.com/donation_pages/2e00b251-c18c-4528-8cd7-14fee7d371f9 or
https://4agc.com/donation_pages/b697dfc1-71e7-4d5c-a3a4-2cab7dfa595b.
About Cheryl D'Anna, Russ Lyon Sotheby's International Realty
Cheryl D'Anna is one of the top luxury agents in North Scottsdale. She enjoys helping her clients learn about the area and find their perfect lifestyle. Her office is located inside the gates of the acclaimed Desert Mountain; one of the premier golf, tennis and hiking clubs in the country. For more information, please call (480) 319-3800, or visit http://www.elevatingrealestate.com.
About the NALA™
The NALA offers small and medium-sized businesses effective ways to reach customers through new media. As a single-agency source, the NALA helps businesses flourish in their local community. The NALA's mission is to promote a business' relevant and newsworthy events and achievements, both online and through traditional media. The information and content in this article are not in conjunction with the views of the NALA. For media inquiries, please call 805.650.6121, ext. 361.