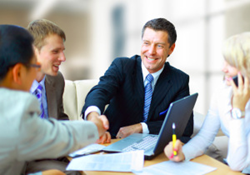 A personal injury attorney will help to ensure that injured victims receive the compensation they need to recover and pay for their medical expenses.
Vancouver, WA (PRWEB) November 13, 2014
"Anyone would always avoid an auto accident if they possibly could, but there are times when other drivers on the road are not so conscientious," opens the article published by Russell and Hill Law Firm.
"If you've been injured in an auto accident," they continue, "It's important that you speak with an auto accident attorney right away." Why should you work with an auto accident attorney?
The Russell and Hill article lists three relevant reasons why individuals injured in a vehicle accident should pursue help and counsel from a personal injury attorney.
To learn more about Russell and Hill's services or to schedule a free consultation, visit their website.
The first reason that many individuals list for avoiding an auto accident attorney is the cost factor. However, Russell and Hill assures their clients that there will be no up-front fees nor any hourly attorney fees to worry about. Instead, their contingency payment procedures allow for the attorney fees to be paid only at the successful conclusion of your case, and then only as a percentage of the amount that your attorney negotiated for you from the insurance company. Russell & Hill does not want costs to be a barrier for injured people to obtain proper legal representation.
Another reason for working with a personal injury attorney is their expertise in interfacing with insurance companies. Most people avoid dealing with their claim because they don't have time and know-how to deal with insurance company procedures and requests.
Read the article to learn how an auto accident personal injury attorney can help an individual injured in an auto accident receive insurance coverage for their medical bills.
Recovery after an auto accident is crucial to regain full quality of life, and a personal injury attorney can provide you with the coverage to help you accomplish that goal.
About Russell and Hill Law Firm:
Russell and Hill is an experienced law firm that is committed to protecting the legal rights of their clients. Their skills and knowledge of Washington State law and proper legal procedures have been an asset to their satisfied clients for years. Dedication to exceptional service is a strong focus at Russell and Hill, and they offer free no-obligation consultations for potential clients who are looking for legal counsel. To learn more about Russell and Hill Law Firm or to schedule a free consultation, visit their website at http://www.russellandhill.com.