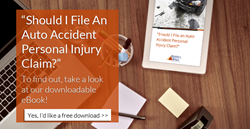 Misconceptions and unwarranted fears can prevent the injured from receiving the compensation they need to fully recover.
Seattle, WA (PRWEB) December 30, 2014
Russell & Hill, PLLC attorneys focus on providing those involved in a personal injury accident with legal assistance regarding personal injury claims. Because of their desire to be a helpful source of information to those involved in personal injury accidents, they've written and released a comprehensive guide to the personal injury auto accident claims process.
In this free eBook guide, "Should I File An Auto Accident Personal Injury Claim?", the attorneys at Russell & Hill, PLLC give an overview of the claims process, including information on whether the injured party qualifies for a personal injury claim, how to find the help they need through the process, how to rate pain accurately, what the claims process looks like, and all the services that the injured party should expect from their attorney and their doctors during recovery time.
"Most people don't fully understand the legal process and policies surrounding an auto accident," says Russell & Hill, PLLC. "Because of misconceptions and unwarranted fears, these injured individuals frequently forego the monetary coverage they need to pay for their medical bills, loss of income, and other costs incurred from the accident."
The attorneys of Russell & Hill, PLLC have been helping injured individuals along the I-5 corridor, from the Seattle and Tacoma area through Vancouver and Portland, and all points in between. Their focus on seeing a successful outcome for their clients has led them to adopt the contingent payment plan for their service fees. This means that if their clients are not rewarded with monetary compensation, their attorneys forego payment. It is a built-in, vested interest for the attorneys at Russell & Hill, PLLC to get the highest settlement possible. The attorneys at Russell & Hill PLLC always strive to achieve the highest settlement possible for their clients.
To learn more about the services of the attorneys at Russell & Hill, PLLC, follow this link to their website. They handle personal injury claims for those involved in auto accidents, truck accidents, motorcycle accidents, wrongful death, medical malpractice, dog bites, premises liability accidents and more.
About Russell & Hill:
Russell & Hill is an experienced Law Firm that is committed to protecting the legal rights of their clients. Their skill and knowledge of Washington and Oregon State law and proper legal procedures have been an asset to their satisfied clients for years. Dedication to exceptional service is a strong focus at Russell & Hill, and they offer free no-obligation consultations for potential clients who are looking for legal counsel. To learn more about the Russell & Hill Law Firm or to schedule a free consultation, visit their website at http://www.RussellandHill.com.
Russell & Hill, PLLC Vancouver Law Firm
4400 NE 77th Ave #275,
Vancouver, WA 98662
(360) 566-2999