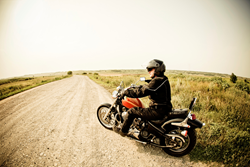 Injured motorcyclists in Vancouver-Portland can receive significant compensation when they file a successful personal injury claim with an experienced attorney.
Portland, OR (PRWEB) April 02, 2015
Motorcycle accidents are prevalent in the Vancouver-Portland area, and the Russell & Hill, PLLC law firm has recently released an eBook to help injured motorcyclists know how to handle their injuries.
If the accident was not the fault of the injured motorcyclist, they can file an insurance claim to recover damages and receive coverage for medical treatment needed to address their injuries.
The new eBook released from Russell and Hill PLLC talks about how motorcyclists in Vancouver, WA and Portland, OR can determine if they qualify for a personal injury claim, as well as the benefits of working with an experienced motorcycle accident personal injury attorney.
The eBook, "3 Steps to Filing a Motorcycle Accident Insurance Claim" is a free download designed to help those injured in a motorcycle accident understand their situation and take the proper steps necessary to securing their claim.
Many aspects of a personal injury claim are time-sensitive and require a thorough understanding of the claims process. A motorcycle accident attorney, like the professionals at Russell & Hill, PLLC, understand the legal procedures and technicalities of filing a claim.
An experienced motorcycle accident attorney will know how to gather evidence, ensure that the accident report has been filed properly, and handle the claim proceedings from the original filing and up until the claim is settled.
By being informed and educated on all of these aspects of a personal injury claim, residents of Vancouver, WA and Portland, OR can ensure that their injuries are able to be treated under the coverage of the medical compensation obtained from the insurance company of the at-fault party.
To learn more about motorcycle accident personal injury attorneys in Vancouver WA, click here.
"If you are experiencing pain or mental trauma as a result of your motorcycle accident, you should certainly investigate filing a personal injury claim," says Russell and Hill, PLLC, "Our motorcycle accident attorneys in Vancouver, WA have excellent and experienced attorneys that are looking forward to helping you do just that."
About Russell and Hill:
Russell and Hill is an experienced law firm that is committed to protecting the legal rights of their clients. Their skills and knowledge of Washington State law and proper legal procedures have been an asset to their satisfied clients for years. Dedication to exceptional service is a strong focus at Russell and Hill, and they offer free no-obligation consultations for potential clients who are looking for legal counsel. To learn more about Russell and Hill Law Firm or to schedule a free consultation, visit their website at http://www.russellandhill.com.
3811-A Broadway Everett, WA 98201
(888) 258-9103
russellandhill.com